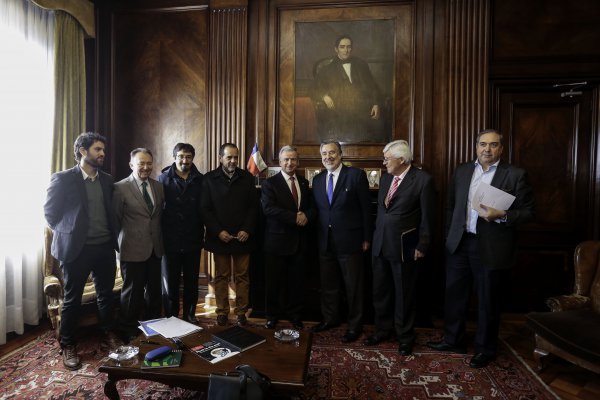 Senators Alejandro Guillier, José García Ruminot, Juan Ignacio Latorre and Carlos Bianchi, as well as deputies Rodrigo González, Jaime Mulet and Diego Ibáñez, met Minister Felipe Larraín of Finance.
The regional groups of the Chamber and the Senate, led by Deputy Rodrigo González (PPD) and Senator Alejandro Guillier (IND), met with the Minister of Finance, Felipe Larraín, to request the modernization of the tax return – yesterday introduced in Parliament – including legislation on regional revenues.
"Unfortunately, Minister Larraín has not opened a door for a firm proposal regarding the promotion of simultaneously or within the project for the modernization of the tax, a law of regional renting and proposals for fiscal decentralization"said deputy González.
The parliamentarian stated that "it was not reflected in any point raised by the senators and deputies that relates to these issues, no sign that it might be important for us to continue in the objective that we this meeting, and therefore, we declare that our institution with regard to tax modernization will not be what it is waiting for if there is no substantive response in the short term and in the context of this reform we do not want this situation to be delayed for the future ".
Rodrigo González said that "Nevertheless, he expressed his willingness to talk about the problems, which is important. We hope that this dialogue will take place through the integration of the Under-Secretary of Finance into the work committees we have with the Ministry of the Interior, with the Subdere, so that we can discuss a proposal together. "
Minister Felipe Larraín said for his part: "we will have the willingness to study and analyze it in good form and with an open mind, while we also hope that the tax modernization project that we have proposed will be analyzed."
"We never thought that this project would turn out exactly the same as what it looked like, so if there are good ideas coming up we are ready to welcome them", assured the head of the Treasury portfolio.
Also present at the meeting were representatives of Jaime Mulet (FRVS), Diego Ibáñez (MA), and senators Carlos Bianchi (IND), Juan Ignacio Latorre (RD) and José García Ruminot (RN).
This appointment has been added to a series of meetings held by the Minister of Finance over the past two weeks with MPs from various parties, business associations, deans of universities and study centers to socialize the main guidelines of the tax reform project.
In those meetings, one of them was the metalworking and metallurgical guild Asimet, who suggested to the Treasury that the tax advantage for SMEs be extended to industries that invest in technological transformation.
Source link