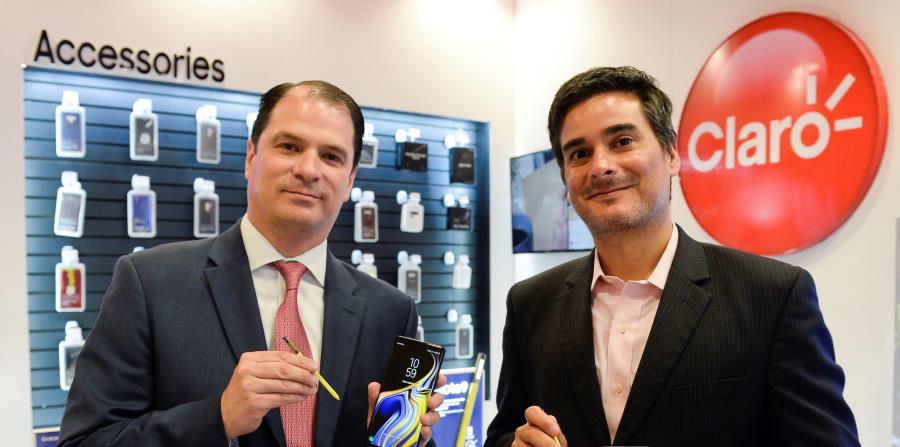 Yesterday the market introduction of the new smartphone Samsung Galaxy Note 9, the provider of telecommunication services Claro aims to exceed the turnover that the predecessor model had last year.
According to Enrique Ortiz de Montellano, president and chief executive officer of Claro, the launch of the Note 9 had a good start, judging by the VIP sales that took place earlier – in six customer service centers all over the island – that were pre-registered
"Note 9 is one of the most popular phones and this is proven by our portal, Claropr.com, where more than 6,000 people have registered," said Ortiz de Montellano yesterday. "30% more people were pre-registered than in 2017, when Galaxy Note 8 came out, and the VIP sales were higher than in 2017. 15% more units were sold."
The latest model of the premium series Note, which was launched yesterday by the South Korean company Samsung Electronics in 56 countries, stands out for its S Pen digital pen. This entails new functions because it controls various applications remotely, at a maximum distance of ten feet. The S Pen has buttons that allow you to take selfies, for example, while you are away from the mobile phone, playing music, presenting slides, and pausing or playing video ", said Albin Strothers, manager of mobile products for Latin America.
Other features that distinguish it are the storage capacity of 128 GB (gigabytes), which is double the 64 GB that its predecessor had; its battery of 4000 mAh (milliampuur), the largest that a Galaxy phone has ever had and with which it can be used all day long; the 6.4-inch screen and a cooling system & # 39; water carbon & # 39; to prevent overheating. It is available in blue, black and lavender, has a starting price of $ 999.99, the 128 GB; and $ 1,249.99, the 512 GB.
As an introductory offer for the rest of August, Claro offers 50% off equipment and, as a gift, the Samsung Gear Fit 2 smart watch.
T-Mobile has announced via a press release that it will offer the Note 9 with a discount of 50% to 24 monthly credits on the invoice with the trade-in of a qualifying Samsung team. The company added that customers could take a free line for a limited time with the included Netflix and unlimited 4GLTE by adding a new line to an eligible T-Mobile ONE family plan, after balances on their auto-payment invoice.
The Note 9 has the capacity to run in the 600 MHz band (megahertz), so it will be compatible with the LTE network in the 60 MHz band that T-Mobile has recently announced that this year everywhere in Puerto Rico effort. This will translate into greater speed, capacity and coverage, according to the telecommunications company.
The new Samsung model will also be available in the other telecommunications providers with a presence on the island.
Source link