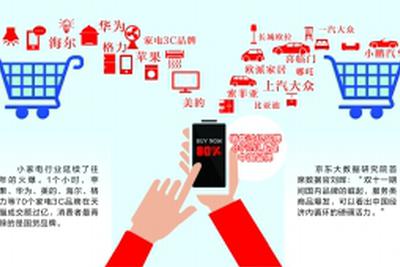 Original Title: Small Appliances Keep Exploding and New Energy Vehicles Join the Double Eleven "Cart"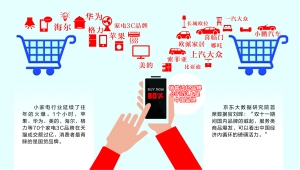 Securities Times reporter Mei Shuang
Double Eleven, the largest consumption season after the epidemic, sparked enthusiasm for consumption among the people, and rising transaction data also reflected the heat and cold in the industry. As of November 11 at 8 p.m., real-time revenue from the Tmall Double Eleven 2020 global carnival season was more than 467.4 billion yuan.
Just 26 seconds after midnight on November 11, Tmall ushered in another spike in traffic, with peak order creation of 583,000 transactions per second. This new record marks 1,457 times the first Double Eleven in 2009. At the same time, the resource costs of 10,000 transactions are down 80% from four years ago.
It is clear that from 1 to 11 November at 0:35 AM, the number of brands with cumulative sales of more than 100 million during Tmall's Double Eleven period reached 342, more than last year's level (299). According to the statistics released by the company Securities Times e, the products of listed companies, including Sophia, Oppai Home Furnishing, Xilinmen, Midea Group, Haier Zhijia, Gree Electric, etc. have joined the "Billion Yuan Club". Still constantly updated. From an industry perspective, the popularity of small household appliances has continued unabated: presidents of listed companies have joined the "live broadcasts of goods" and new energy car companies have also started selling cars online.
 36 home improvement brands have sold more than 100 million yuan
This year, the Tmall Double Eleven apparel industry presents the hallmarks of an accelerated integration between online and offline and localization. From November 1 to November 11 at 10 am, the 100-story "Tmall 3D Home Improvement City" ushered in 60 million "cloud shopping". A total of 188 individual products with sales in excess of 10 million are reported to have been made on Tmall home improvement, and 36 home improvement brands have achieved sales in excess of 100 million. Among them, the brand sales of listed companies such as Sophia, Oupai Home Furnishing and Xilinmen all exceeded 100 million yuan.
According to reports, during Tmall Double Eleven, sales of more than 100,000 home improvement stores opening Tmall light stores increased by an average of 70,000 yuan, and there were more than 780,000 online consumers, including the average passenger flow of Red Star's offline malls. Twice.
On November 1, Tmall's "Evening at 8:00" at Tmall's Home, Xi'an headquarters had sales of 45 million yuan that day, 21 times the daily sales. Many offline stores and shops, including Red Star Macalline, Sophia, Wesley, Jianyoumei, Yuhong Waterproof, and Wrigley, have seen "long lines" of customers.
After the epidemic, home consumption has increased and consumers have paid more attention to the home environment. During the preventive purchase period of Tmall Double Eleven, the number of latex mattresses increased by 5600% year-on-year, the number of smart door locks and sales of designer furniture by 900% year-on-year; the number of study desks for children increased by 900% year-on-year and the number of computer chairs increased by 750% year-on-year. Home study and office work have become new requirements. On Tmall Double Eleven, children's study desks broke 100 million in 1 minute, and latex mattresses broke 100 million in 7 minutes, confirming the rise of these consumption trends.
  The small appliance industry continues to explode
The data shows that the small home appliance industry has continued the popularity of Double 11 in previous years. From November 1st to November 11th at 1 pm,AppleHuawei, Midea, Haier, Gree,Xiaomi70 3C home appliance brands, including Dyson and Tmall, have sales in excess of 100 million on Double Eleven. Consumers are most favored by domestic brands, and 80% of the "Billion Yuan Club" in the 3C home appliance industry are domestic brands.
In the first hour of November 11 alone, sales of 313 small home appliance brands increased more than 1000% year-over-year. Among them, Yunjing joined Tmall for just one year and soon joined the "Billion Yuan Club", a significant year-on-year increase of 2000%. At the same time, new brands such as Timco, Turkey and Yuri became the TOP 1 in the industry.
In addition, in the first hour of November 11, sales of new categories of small appliances, fragrance diffusers, tableware sterilizers, commercial dishwashers and floor scrubbers increased 1,000% year-on-year. The new mobile phone products iPhone 12 series, Huawei Mate40 series, OnePlus 8T series dominate the top ten new products sold in the list.
With the full popularity of new technologies such as Taobao live broadcast and 3D scene shopping, from November 1 to 11 at 1:00 am, transaction volume of Taobao live broadcast rooms exceeded 7 brands, including Huawei, Haier and Midea, more than 100 million yuan. In addition, 3D scene purchase technology has been fully implemented across 120 home appliance brands, and Haier and Siemens' 3D model rooms have 1: 1 real-world re-engraving of offline experience stores, a 180% year-over-year increase in the browsing time of users.
The sale of small household appliances is booming. Some presidents rushed to the factory to replenish orders urgently, and some rushed to Taobao's live broadcast room to become "anchors." The reporter found that the presidents of nearly 100 well-known home appliances and 3C digital brands, including Huawei, Haier and Samsung, all came to "champion" Tmall Double Eleven.
 New energy car companies are selling cars online
From eating, drinking and having fun to buying a house or a car, many people started loading real cars into their shopping cart this year on Double Eleven. From 1 to 11 November at 1 a.m., more than 13 million people watched cars on Tmall and 330,000 of them ordered new cars online.
This year, many listed car companies joined online car sales. Data shows that from Nov. 1 to 11 a.m. at 1 a.m., SAIC Motor, which first participated in the "Tmall Good Car 10 billion grant," collected more than 45,000 orders and Xiaopeng Motors more than 18,000 orders.
From 1 to 11 November at 1 a.m., the total number of orders for Tmall cars exceeded 330,000 units. The number of participating car brands this year reached a new high and included more than 50 mainstream brands and more than 7,000 dealers in more than 300 cities across the country.
Among them, SAIC Volkswagen, FAW-Volkswagen, BYD, Guangqi Honda, Great Wall, Jietu, Chery, SAIC-GM Buick, Wuling Baojun and WEY have become the top ten most popular car brands on Tmall. At the same time, Xiaopeng, Great Wall Euler, Nezha, Chery New Energy and Weimar have become the most popular new energy brands.
Embracing digitization has become a new trend for car companies. first half of this year,TeslaEntered Tmall and opened the world's first official Tesla online flagship store; on the eve of Double Eleven, Porsche entered Tmall and opened a store on the e-commerce platform for the first time; on October 26, BMW andAlibabaThe group reached a strategic partnership and opened an auto customization business on Tmall; on November 7, Great Wall's rotating president appeared in Taobao's live broadcast room, setting a new record of 27,000 orders per game; on November 8, SAIC and Alibaba reached a new Retail Strategic Cooperation Agreement, joined the "Tmall good car 10 billion grant".
  Import consumption increased by more than 40%
In addition, overseas brands are also experiencing explosive growth at Tmall Double Eleven this year. This year, for the first time, more than 2,600 new brands and 1.2 million imported new products entered through Tmall Global. Data shows that from November 1 to 11 at noon, Tmall's international imported goods sales increased by 47.3% year-on-year, with 180 overseas brands having sales of more than 10 million and 816 overseas brands a turnover of more than one million.
At Tmall International, the number of new brands with sales of more than a million year-over-year increased by 92% and sales of imported new products increased by 88% year-over-year. Since the beginning of this year, China's import consumption has continued to accelerate online, with Alibaba announcing at the third CIIE that it will meet 102% of its sophomore target of $ 200 billion in imports in five years.
In terms of new brands, from November 1 to 11 at noon, 16 new brands had cumulative sales of more than 100 million yuan, almost three times the last year, and this number is still growing.
According to data released by Tmall, sales of Perfect Diary and its cutting-edge brand Xiao Aoting both exceeded 100 million. Huaxizi, Ubras, Tianke and other products' sales also exceeded 100 million yuan.
Source link