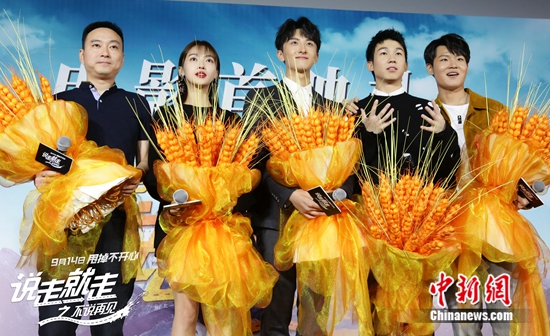 Original title: Bai Jugang is the theme song for the new film Wu Jinyan was sealed as the "extreme goddess"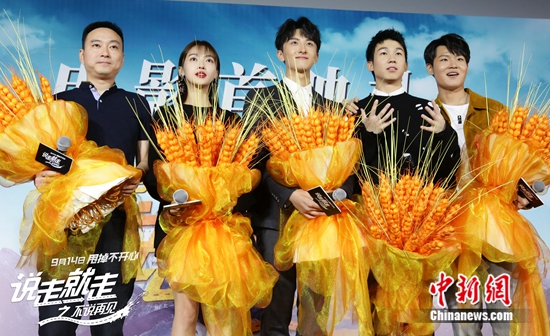 Main picture
Zhongxin.com Beijing, September 10, 9th, the film "Do not say goodbye to go away" – "Breaking Unhappy" theme premiere was held in Beijing, producer Wang Yuanfei, director Zhang Cheng with a group The main creation was present to to assist.
Zhang Cheng, a screenwriter, has & # 39; Crazy Stone & # 39; and & # 39; Crazy Racing & # 39; written. When you talk about the creative motives of "Do not say goodbye when you leave", Zhang Cheng said that this was a very interesting attempt. This film combines youth + road + comedy elements and is a rare type in previous domestic films.
In the film Niu Junfeng plays the role of Chen Xiao, the head of mountain climbing. He said that this character seems to be on the surface. It is actually a person who is responsible for friends and unique to his feelings.
Bai Jugang played "Xi Ba" Xiong Bo, in the film, fell in love with Wu Qiyan's parachuting coach Xue Qi at first sight. Bai Jugang said that Xiong Bo should be the biggest beneficiary of this trip, he has received brotherhood and love. Although the Bai Jugang does not have a good score outside the drama, Xiong Bo can not be underestimated. During the filming, Bai Jugang felt with a feeling and created the theme song of the film, "Go and Go". Asked about his creative inspiration, he replied: "Because the scenery along the road is so beautiful, it is so shocking, I remembered the experience with my brothers, I felt a touch of the heart and wrote this song."
Talking about the shooting experience, Wu Jinyan said frankly that as the only girl in the squad, she got a cool label like "The Ultimate Goddess" and she was very happy. For Wu Jinyan the greatest feeling is fun this time. "I felt like I was really traveling during the film process and it was a very interesting and memorable adventure."
It is reported that "Do not Say Goodbye" will be released on September 14. (End)
Source link