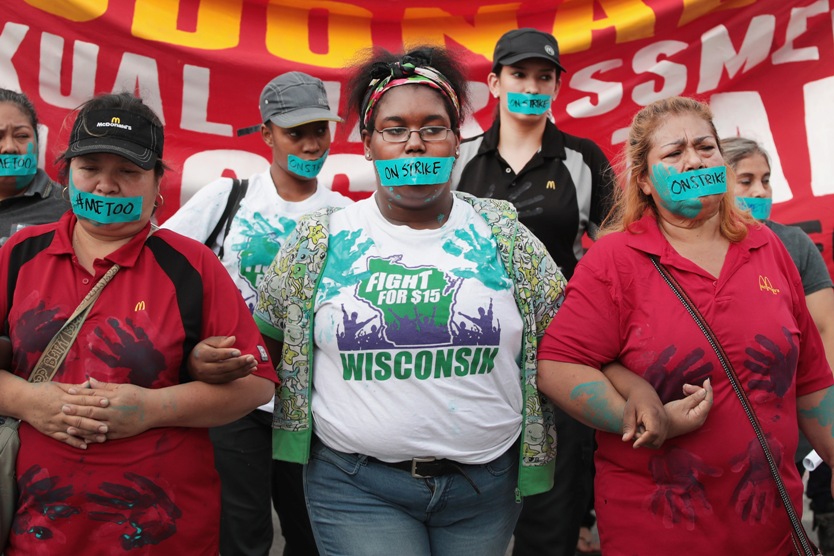 McDonald's employees held a 10-day strike in 10 US cities on Tuesday to sue the fast food giant not adequately addressing sexual harassment in their institutions.
The organizers said the strike was the first of its kind and is aimed at ending McDonald's inability to put an end to insignificant, lascivious comments and sexual advances in its restaurants.
Inspired by the #MeToo movement against sexual violence, the dissidents said that their experiences reflect a bad restaurant culture where sexual harassment is normalized.
In a small protest for the headquarters of the Chicago company, dozens of employees and supporters kept placards, sang and detailed examples of their own experiences.
"I am stopping and I am stopping here today for a change," said Theresa Cervantes, a 20-year-old McDonald's employee who reported that her managers regularly bothered employees.
"Sexual harassment is a universal problem, it is a disease," he said, standing in front of other workers whose mouth was covered with blue tape, which read: "on strike" or "me too (me too)"
Similar scenes were seen in nine other citiesincluding Kansas City, Saint Louis and Durham, where the workers protested for a few establishments.
The strike drew the attention of Senator Bernie Sanders, who on Twitter said thatThe intimidation and abuse reported by company employees is "simply unacceptable."
"We need to join the courageous McDonald's employees in today's protest to demand that the company address this epidemic of sexual harassment," he added.
The strike comes four months after the women working for McDonald's in nine cities across the country have filed a sexual harassment charges against the company with the Equal Employment Opportunity Commission.
"Thousands of workers in the country today have come out of the shadows and have entered the protest lines," said Karla Altmayer, organizer of the community in Chicago.
"We can not accept that more than one in two workers in their workplace suffers sexual violence," he said, referring to McDonald's.
The workers want the fast food giant to do thator a committee – consisting of employees and representatives of national women's organizations– to address the problem of sexual harassment.
In a statement McDonald & # 39; s said that it had "strong policies and procedures, as well as training" at workplaces to prevent sexual harassment.
He added that he had hired experts in prevention and response "to make our policies evolve so that everyone working at McDonald's is doing it every day in a safe environment."
Source link