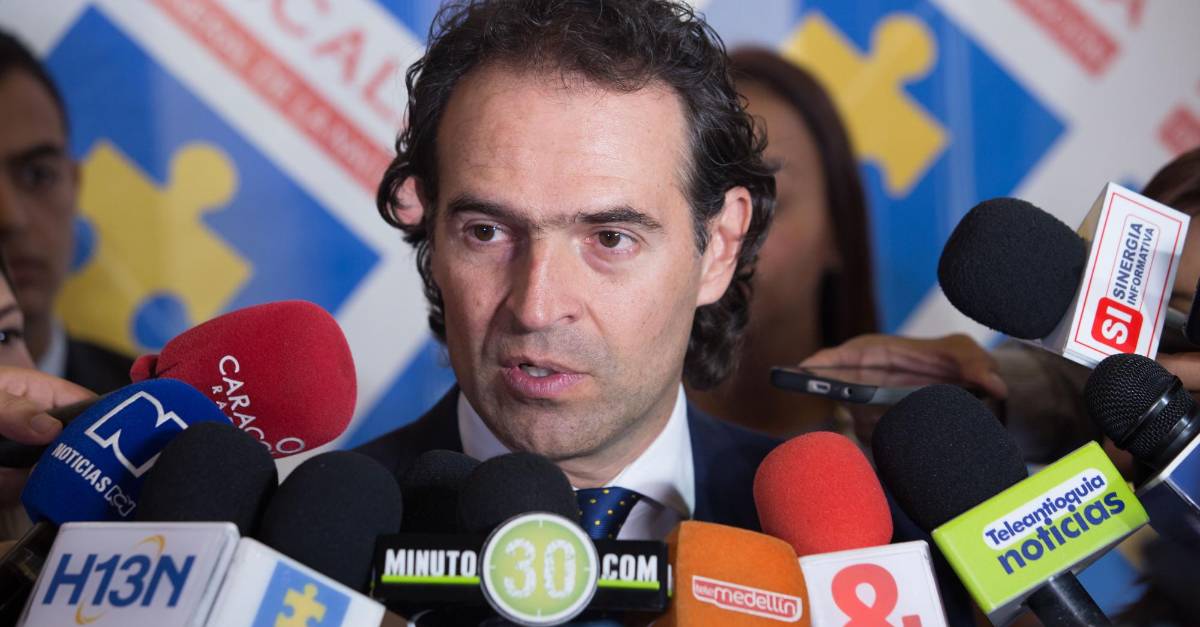 1. In February 2016, Mayor Gutiérrez reported that an informer had provided information about a plan to kill him and claimed that this information had not been processed with agility. Then the prosecution reported that the threats came from the name "Pedro Pistolas", head of organized crime in the center of the city.
According to the then mayor, the criminals in a hotel in the center of Medellin had a meeting to coordinate the operation in which they also planned to commit a riot against the National Police.
2. Almost a year later, in January 2017, the Public Prosecution Service again came to the media to say that it had discovered a plan of criminal structures to attack Gutiérrez.
The mayor confirmed it hours later.
Nevertheless, two days later, the then director of the office of the plaintiff of Medellin, Claudia Carrasquilla, explained that the threats were not directly against the mayor's life, but that it was a plan of the gangs to destabilize the institutions by the robberies to generate influence on public opinion and to weaken the image of the mayor.
3. Seven months later, in August 2017, it was reported that gangs of the Altavista corregimiento were planning to attack a member of the police to force the mayor's presence and try his life. At that time, the situation of public order changed in that area.
4. On November 8, 2017, the state attorney general Néstor Humberto Martínez assured his investigators that they had discovered an alliance of criminal structures that planned to assassinate the mayor.
"This problem was tackled by Freyner Alonso Ramírez Garcia," Carlos Pesebre "from the prison of Picaleña, in the department of Tolima, on the occasion of the public demonstrations that the mayor made with regard to his upcoming release," said the prosecutor.
5. On 4 January 2018, Brigadier General Óscar Gómez Heredia, commander of the Metropolitan Police, reported that his men had discovered a plan to kill Gutiérrez. "In the North Terminal, in a bank, we found two guns with vendors and 28 cartridges, and the source told us that the weapons would be used in an attack against Mr. Federico Gutiérrez," General Gómez added. The investigations still do not give any indication about the possible managers.
Source link