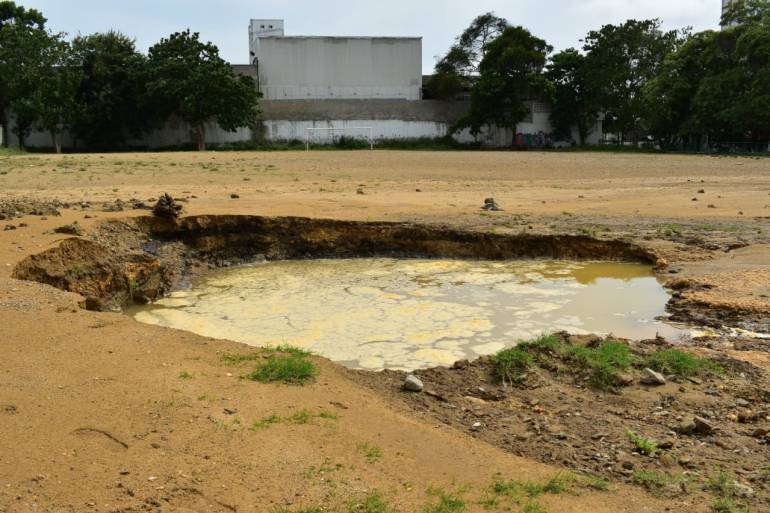 An active emergency plan Aguas de Cartagena S.A. E.S.P. for the breakage of part of the water supply pipe of the Las Colinas tank, which feeds the southwest, part of the southern and northern areas of the city.
With its own brigades and personnel of contractors, as well as the necessary tools and heavy machinery, Acuacar begins to absorb this damage in the damaged 30-inch diameter network, located near the Bertha Gideon de Baladi school, 7th stage of the El Campestre district. . This repair takes about 20 to 30 hours.
For this reason, the water supply to 25% of Cartagena was suspended, delivered by that reservoir, which includes the following neighborhoods and sectors:
El Pozón, Villa Estrella, La Florida, La Central, El Milagro, El Carmelo, Blas de Lezo, Quindio, La Coquera, San Pedro Mártir, Las Colinas, Los Olivos, La Unión, Nelson Mandela, Villa del Carmen, Henequen, Santander Luis Carlos Galán, Navas Meissel, Las Colinas, Las Reinas, The Rest; The sectors La Victoria, Simón Bolívar and El Tanque.
November 2, Barrio Nuevo, Villas del Rosario, Manuela Vergara de Curi, Pardo Leal, La Gaitana, June 3, Altos de San Pedro, Andres Pastrana, La Esmeralda I, La Esmeralda II, Nueva Venecia, Nelson Mandela, El Nazareno, Sister Teresa of Calcutta, La Victoria, High Gardens, Villa del Rosario, Coomuldesecar, Minute of God, Villa Hermosa, Villa Isabel, New Gardens, The educator, Los Ciruelos, Rodesal and Camilo Torres.
María Cano, New Delhi, Florida Blanca, Ciudadela 2000, La Sierrita I, La Sierrita II, New Villa Fanny, Villa Fanny, El Silencio, Nueva Jerusalén, Santander, Villa Ángela, Los Jardines, La Consolata, Los Alcazares, Villa Rubia, Nelson Mandela, Jorge Eliécer Gaitán, Kalamary, Revive Los Campanos.
San José de Los Campanos and its sectors: Campanitas, Cristo Rey, Arachera, Campo Alegre, Spring, Spring, Rosales, Villa Amelia, Nueva Victoria, Villa Juliana, Villa Esperanza; Urbanizations Flor del Campo, Colombiaton, Bicentennial, India Catalina, La Carolina, Portal of Cordiality, Quintas del Manantial, Garden City, Horizon, Bosque de La Ceiba, Bosque de La Circunvalar.
Villa Grande de La India I and II, Villa Andrea, El Rodeo, Huellas Alberto Uribe and Huellas Juan Pablo II, part of El Campestre and San Fernando, among other companies of Tenaris and Technological University.
Other influences due to the lack of water service extend to a part of the northern zone of Cartagena, where all residential areas and complexes are located on the road to the sea and the corregimientos of Punta Canoas, Pontezuela, Bayunca and Manzanillo del Mar; paths Tierra Baja and Puerto Rey, among others.
Waters of Cartagena implements a plan of special attention with the movement of tankers during the time that this emergency situation continues. "We thank the community for its understanding because it is an unforeseen situation, which is immediately addressed in order to continue to guarantee an optimal service of Aqueduct", according to the company.
Source link