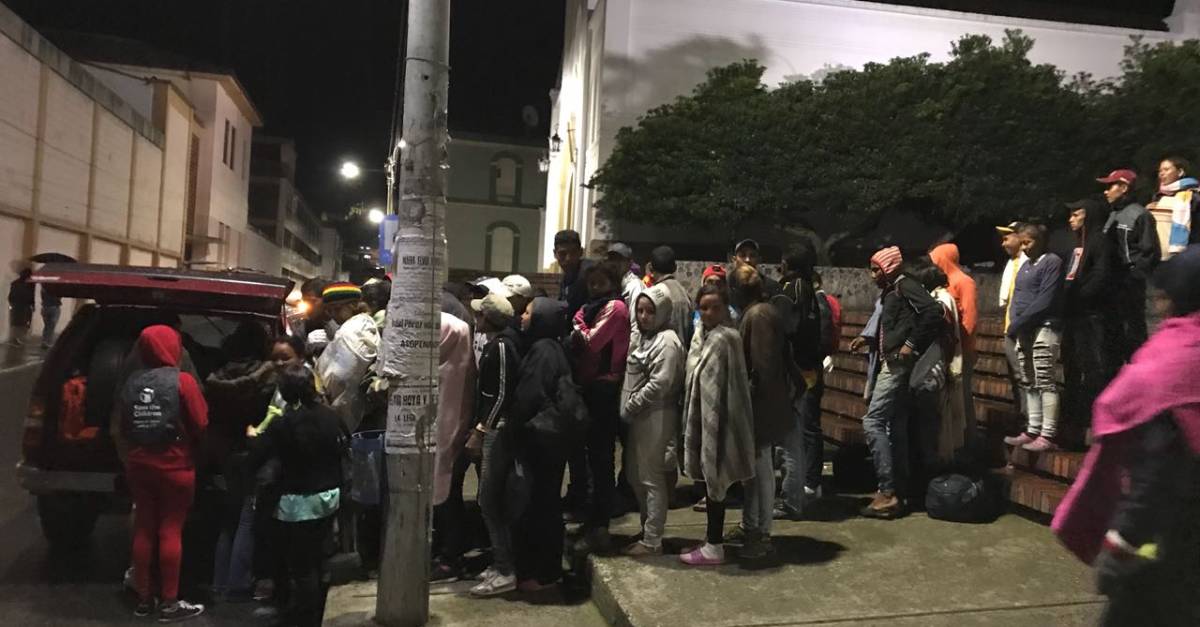 They are walking all day long, they should never have done it because they lived well in their country until four years ago. Many of them are professionals who have left their jobs because the salary for the whole month does not even cover one meal.
Many, like Jorge Paz, They arrived in Cucuta with $ 20,000 in their pocket, the saving of their lives in Venezuela.
"Maduro has let us choose between sleeping under one roof or eating, studying or eating, having clothes or eating, getting sick or eating, having a united family or eating," he said a few months after making the crossing, which allowed him to go to Medellín. to achieve.
He walked and walked, stopped for a few minutes to catch his breath and keep walking. Maybe a truck stopped and gave him a lift and from there he would continue his journey.
The hardest point is the Berlin páramo, which is a necessary step from Cúcuta to Bucaramanga (see chart), and the situation there has only got worse in recent days since the government of Nicolás Maduro He said that today the new economic measures would begin to govern. As always, every new regulation translates into more hunger, say those who pass the border these days.
The Rico family helped the Venezuelans arrive in Bucaramanga with food and market, until a friend told them that the real drama was taking place in the páramo of Berlin, the corregimiento of Tona (Santander).
"We started climbing about a month ago, but what we have seen is impressive: pregnant women and young children, who are starting a five-day trek to reach Bucaramanga, many are walking from their states in Venezuela to San Antonio del Táchira" , Account Daniel Mauricio Rico.
The most serious thing is that because they have so little money in Colombia, they have no food and the clothes they bring from their countries are warm or warm and the temperatures below zero degrees Celsius that are registered in Berlin, they leave on the edge of the country. hypothermia.
"The inhabitants speak of different deaths, but the authorities do not register them There is no institution in the páramo, only soldiers are there and help," said Rico.
Juan Camilo Ortiz, a Santandereano who was tasked to help the Venezuelans who make the trip, said that the farmers talk about a pregnant woman who died of hypothermia in the wasteland.
Yesterday he was in Berlin and saw about 60 Venezuelans who did the tour, including eight women, sometimes counting up to 400 people.
"They talk about the difficult situations in their country, how they can only buy a pound of cheese with the monthly minimum wage," says Ortiz.
Officially, since last February 10, a migratory checkpoint is active in that district, but in reality, when it is active, it tries to provide information to people, instead of verifying the legality of the migrant. "What is won by holding the illegal person to let him die of hunger in his country?" Declares an official of the government of Santander who has requested a reservation of his identity. Neither Ortiz nor Rico, however, have seen this position work.
From the migration Colombia explained that Venezuelans who undertake this journey need a month to get to Rumichaca, border with Ecuador, and on the roads can find the humanitarian assistance of the Red Cross, giving them a toilet, water and toilet package. . blankets and they give them first aid, because many come with serious wounds in the feet of so much to walk.
Regarding the legality of migration, that entity explained that when irregularities occur, the administrative action begins, which may result in an economic sanction or deportation, the problem is that when a foreigner is deported to return to the country, he that has to do with a passport. and with a visa, which is impossible in the Venezuelan context, so Migration created the image of voluntary return.
Like the Rico and the Ortiz, there are several families who are trying to help Venezuelans get into shame in another's country. Some make canelazos, so the heat helps them to pass the 23 kilometers of mountain they miss or the 58 kilometers to Bucaramanga, at least 16 hours more of the journey on foot.
Despite the difficulties, Colombian solidarity was vital for survival. "Here I ate everything I had to eat in Venezuela", celebrates one of the women who crosses the mountain.
The friends of Miguel Rodrigo Sernaanother Venezuelan who arrived in Medellin went through the odyssey. "Eleven companions came walking from my country, the main motivation was their family, it was like a sense of survival, some stayed in places where they went, because people are so moved to see something like that, some were crossing the whole country. to reach Peru and others managed to stay in Colombia. & # 39;
However, everything has a limit, in Bucaramanga, according to the authorities and local inspection authorities, one of the reasons for the increase in cases of theft of people (29%), housing (20%) and trade (11%) is the migration situation. and therefore they decided to strengthen control activities for migrants in public roads and scenarios.
Source link