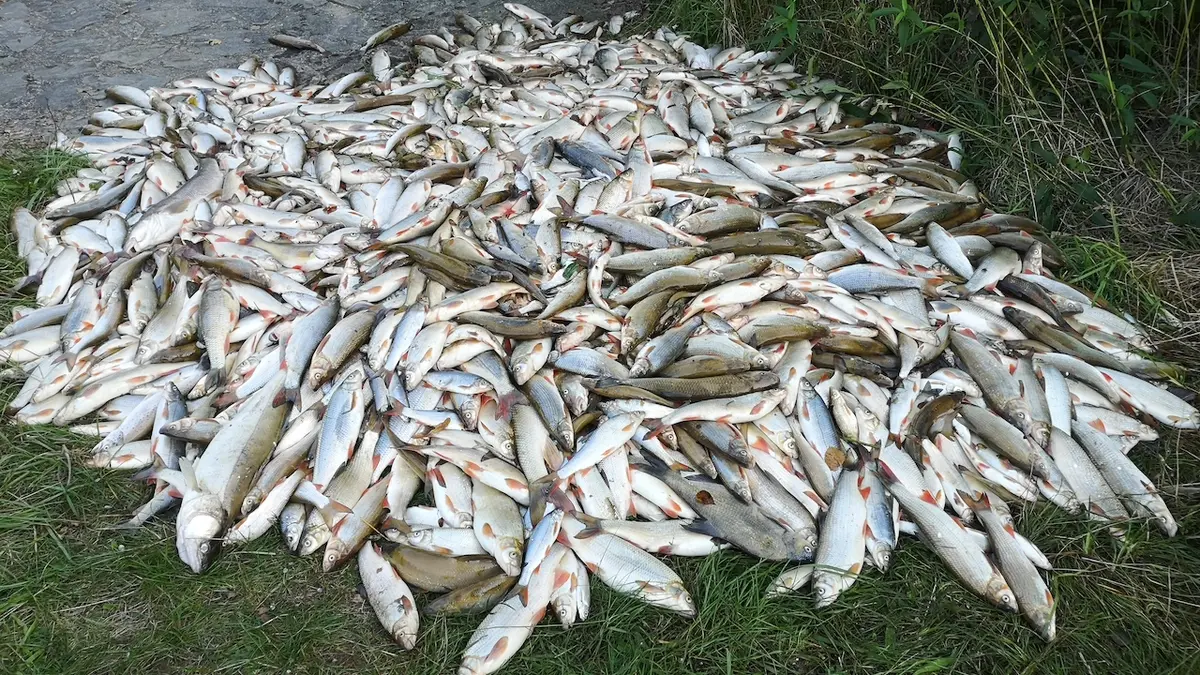 Police are still waiting for expert advice to point to the source of the Bečva contamination. They won't be available until December 20.
"There is a very long delay. It certainly does not help to ensure that the outcome of the investigation is ultimately well received. Moreover, there is a lot of suspicion among people that this massive accident will ever be investigated," added the deputy mayor. from Rožnov.
Other dead fish findings do not help to calm down either. On Thursday, one such citizen reported such a municipal police in Valašské Meziříčí. He pointed to five dead fish in the part of Rožnovská Bečva near the city center. Not behind the connection with Vsetínská Bečva, as was the case with the massive September fish deaths near Choryně or other minor contaminants near Juřinka from October and November.
"I found dead fish up to six feet tall crossing a pedestrian bridge, it was probably Parma. Plus maybe a few frightened fish my eye saw. But I don't know if they weren't fallen leaves," said one Witness against Práva, who also reported the incident to the police, fearing that this was another poisoning of the river.
Attention is drawn from the first river poisoning
His phone call to the Práva police was confirmed by Jan Camfrla, the chief of the Meziříčí police. "We went to the site and found some frightened fish. There were also live fish and ducks nearby. There was no evidence of further poisoning or pollution. However, we preferred the event to be the head of the Environment Department. from the town hall of Valašské Meziříčí. Rather like a major attack by a predator, one of the fish had visible injuries, "he said.
According to Camfrly, people are now more sensitive to such things: "They are more observant, more sensitive to any find or mention of Bečva."
A similar mood prevails in Rožnov pod Radhoštěm, fifteen kilometers away. From the area of ​​the former Rožnov Tesla, a sewerage drain is coming to Bečva in Juřinka in Meziříčí, where chemicals leaked in October, November and now December. However, contamination by them did not kill fish, and according to fishermen, foam has been forming here for over 30 years.
In addition, according to fishermen, the September 20 disaster did not affect the section of the river from this outlet in Juřinka. "Life disappeared from the river up to 3.5 kilometers downstream, at the Choryň bridge," fisherman Stanislav Pernický told Práva.
Nevertheless, the police are still investigating the Rožnov company Energoaqua, which operates a wastewater treatment plant at the Tesla site. "Attention is constantly diverted from the first digestion of the river, which meant the death of dozens of tons of fish, to another and, in our opinion, far less serious events. And the people of Rožnov are already sensitive to that, " Rožnov deputy mayor Kosová admitted to Práva.
Environment Minister Richard Brabec (ANO) and police have previously identified the canal leading from the factory complex in Rožnov as a possible source of the cyanide leak in September. Only since the first half of November have environmental inspections and forensic scientists focused more on the Valašské Meziříčí chemical plant Deza, which is part of Prime Minister Andrej Babiš's Agrofert holding company.
Source link