"Here you are, poor, poor refugees, this is exactly what we are doing on television, the director is turning the migrants into the sea," says Martin Chrastina in a video that appeared in the facebook group AntiKavárna.
The man was clearly convinced that he could have just discovered a big media spot in which television footage of drowning refugees is released, which will probably awaken in people. In a month the video collected hundreds of thousands of views and informed some of the Czech sites about it.
But the reality is different. There is no TV crew filming a fake melting migrant, but a film crew who completed a documentary about the flight of Greeks from 1919-1922 for the Turkish-Greek war. In particular, it is an escape from a big fire, in which several people drowned. The title of the document is: "The land of arms of the Virgin Mary of Sorrows".
<! –->
The world-famous French news agency AFP was interested in the video of a Czech tourist and the results of her search were published by the newspaper Le Monde. AFP even revealed on Twitter Twitter the profile of Mark Chrastina, which does not miss the SPD flag. She has also published a trailer of the document in which the scene appears.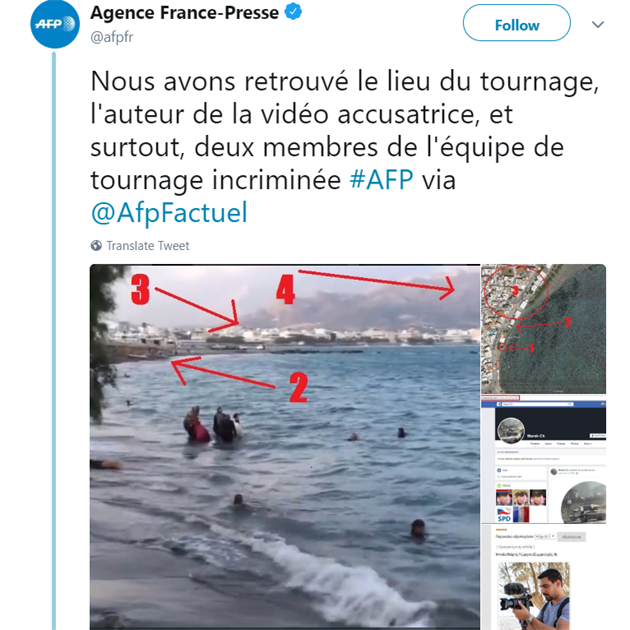 AFP has also reported on the video.
But while the author of the video only has a shame of the AFP Twitter release, an article that appeared on the German Correctiv.org server will probably give him wrinkles. Correctiv communicated directly with documentary director Eleni Vlassi, who sees the video as an attempt to damage her name and would be ready to prosecute the case.
Marek Chrastin himself has already contacted the iRozhlas.cz server. "That they would record a movie, I did not come with the recording device, even the drone was not much, and the behavior of a woman from the shore while lying in the sea was eloquent," he replied that he was sorry. The AFP office said that he had already sent the given series from the document, and his apology would also appear on the photo.
Source link