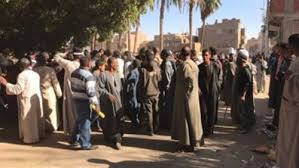 Qena – Hamada Ashour


Posted in:
Tuesday, August 21, 2018 – 11:27 p
| Last updated:
Tuesday, August 21, 2018 – 11:27 p

The security forces in the Government of Qena today controlled large firearms battles between two families in the village of Hamrudum in the center of Naga Hammadi, resulting in the death of two and wounding three others. The police pushed a number of security forces into the village while awaiting of collisions.
The Security Director of Qena Major-Major Al-Qadi received a notification from the director of the Criminal Investigation, Major General Mahmoud Hassan, of an argument and a murder in the village of Hamrudum. Immediately the battle groups were pushed forward. Year, and "Muhammad.a" 26 years, and the injury of "Abdel-Naim, H.", "Saddam A." and "Muhammad.", And the transfer of bodies and wounded to the hospital, Naja Hammadi Central, after a fight was used firearms.
The police arrested some of the accused during the incident, while the troops closed the mountainous area next to the village to flee the remaining fugitives, according to safety sources the police pushed a number of armored vehicles and battle groups in anticipation of clashes between members of the parties and also during the Eid celebration spread safety and peace among the citizens.
On the other hand, the prosecutor of the Naga Hammadi Center, led by councilor Abu Al-Fotouh Al-Badri, decided to allow the burial of bodies and the speed of arresting the suspect, as well as the speed of investigations by the Mahbahith about the incident.
Source link