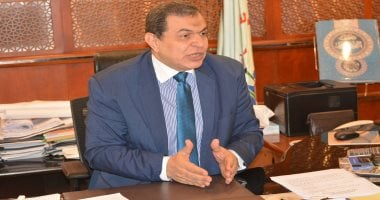 Minister of Manpower, Mohammed Saafan, applied for the employment of her daughter, who obtained a Bachelor of Commerce, the Minister of Manpower signed the application for citizenship and called on the secretary of state of the Manpower Ministry of Manpower to accelerate the crisis of her daughter to solve by finding a job.
Citizenship responded to the Minister of Manpower: "I do not thank you for your presence, and may God bless you and bless you, and accept the minister's shoulder after I have agreed to request."
This came during the opening of the first forum of safety, crises and disasters at the Faculty of Engineering Sciences, Universidad de Menoufia, which was expected to last for 4 days, in the presence of Dr. Ayman Mokhtar, secretary general of the government, Dr. Moawad Mohammed Al Khouli, Director of Manpower Management Manoufia, Hamed Al-Zukm, Director of the Menoufia Manpower Directorate, Dr. ir. Abdul Rahman Qarman, Vice President for Community Service Affairs, Dr. ir. Adel Mubarak, Vice President for Education and Student Affairs, Dr. ir. Alwa Al Khouli, dean of the Faculty of Engineering Science, Ayman Rabee, head of the central administration for safety and health at work, and Mohammed Abdul Sattar Montaser, director general of the department.
The forum is intended to raise awareness in the area of ​​safety and health at work for all government agencies, in particular health, electricity, education, housing and utilities, roads and transport, environment, youth and sport, drinking water and sanitation and Veterinary.
Source link