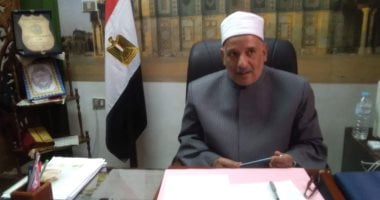 Sheikh Mohammed Khashabah after taking the mouth of the agent of Oqaf Alexandria that the operating room was launched from the break of Eid al-Adha and continue until the end of the Eid prayer to check any irregularities, and was assigned 537 Square for the prayer of Eid Al Adha spread throughout the province., And the delivery of 10 imams from all departments of the Directorate will be fully prepared in the event that following a yard that commits a violation and violates the Ministry's instructions will follow all legal proceedings.
He added that the sale of Sukuk 3102 instruments to date, and the value of an instrument £ 1500, worth 4 million and 653 thousand pounds, emphasizes that there is cooperation with the executive organs of the province and solidarity with a database of meat distribution to the poor and access to the largest number of them via the data that are delivered to the directorate and distributed from Eid al-Adha.
He said that there is a plan for more intensive meetings within sports clubs and sports centers for young people in cooperation with the Ministry of Youth and Sport to hold weekly seminars on different topics. By the imams dedicated to the donations in addition to the weekly meetings in mosques and scientific meetings.
He pointed out that there is great interest in the areas far from Alexandria such as Amreya and Burj Al Arab, a great distance from the center of the province and there is a plan to set imams and convoys of prayer for them weekly in the coming period in mosques, stressing that in the first meeting with the directors of departments was a plan to develop a database Guarding the associations, mosques and corners and developing a database for them and will be developed and used by the management and will be based on it to know that all details of the mosques and their annexes and associations will be handled and all procedures in accordance with this rule will be the basic principles of work in each department or That there is a monastic special workgroup database.
He pointed out that there will be a great deal of interest for the scientific schools in the coming period and that the mosque schools and the memorization of the Qur'an will be handed over to the convoys and the departmental presidents next to the monthly plan of the Cultural and Scientific Directorate well before the Imam, to be aware of what will be addressed and there are preparations in advance.
Source link