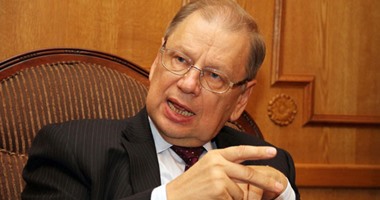 Relations between Cairo and Moscow have witnessed a new breakthrough in several areas over the last five years, resulting from the agreement between presidents Abdul-Fattah al-Sisi and Vladimir Putin to improve relations for a comprehensive strategic relationship, said the Russian ambassador to Cairo Sergey Kiribchenko. Mutual understanding and the desire to achieve common benefit.
On the occasion of the 75th anniversary of diplomatic relations between Egypt and Russia on 26 August 1945, Kiribitshenko expressed his conviction that what has been achieved in the past period will result in the development of bilateral cooperation and the opening of a broader horizon to new areas. For cooperation in the future, adding that Egypt and Russia are important partners in economic and trade cooperation, and expectations indicate that this trend will continue in the future.
He said the trade exchange between the two countries reached $ 6.7 billion in 2017, and this increase is expected to continue bilateral trade this year.
He added that the dialogue between the Foreign and Defense Ministers of Egypt and Russia in format 2 + 2 is an effective instrument for political coordination on various issues and that there is convergence in the positions of both countries, not only in the regional issues but also in most international issues of mutual interest.
In response to a question about the Russian industrial zone, Kiribchenko said that an agreement for the management of this area is currently being prepared between the Suez Canal Authority and the Russian Export Center. The construction of this area will start after the conclusion of this agreement and emphasizes that this project will benefit Cairo and Moscow. It will certainly play a vital economic role in the region.
He explained that the benefits of the nuclear power plant in Dabaa are endless, because they will bring about a new qualitative economic transition to Egypt, which will have a major positive effect on the economic situation in the country, as it will create many jobs for the country. To stimulate Egyptian youth and economic activity in the construction phase and beyond.
On the return of Russian tourism, Kiribchenko pointed out that regular and direct flights between Cairo and Moscow were resumed in April after security procedures were increased, adding that there are some technical problems that need to be resolved to resume charter flights in order to Russian tourists to transport tourist resorts. Egypt.
Kiribchenko stressed Moscow's support for Egypt in its efforts to combat terrorism, exchanging experiences and information and training Egyptian frameworks. He expressed his wishes to Egypt to achieve success and success in eradicating terrorism from Egypt. the country.
Source link