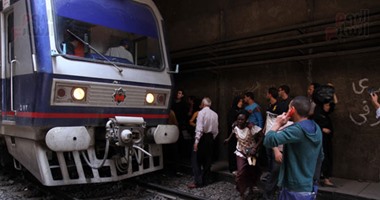 Ahmed Abdul Hadi, the official spokesman for the company in the subway that a person named T. P. He was born in 1977 and is a resident of the Awqaf buildings in Sudan Street. On Sunday (September 2), an employee of the Egyptian telecom company tried to commit suicide in the Gamal Abdel Nasser metro station and threw himself into the train that came from the Helwan station to the lawn.
The official spokesperson for the Metro Company, according to a press statement that led to the amputation of his right foot, resulting in a standstill of 15 seconds to increase the person who kills the rails.
The official spokesman said that General Mohammed al-Sadiq, deputy director of the police general transport and communications department, immediately moved to the camera room with centralized control to inspect the incident and that during the investigation into the Red Crescent hospital was thrown.
Source link