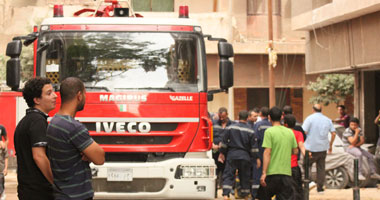 The civil protection units of the Menoufia security office succeeded in keeping two scattered fires in the districts of Sadat and Al-Bagour in the Menoufia government under control.
The safety directorate of Menoufia received a report that a fire broke out in a villa in the Al-Baramater area in Sadat City, the department of the center and the civil protection forces. The fire that broke out in a ground floor bedroom was extinguished by a two-story villa owned by the GJ.
The fire resulted in the burning of furniture in the bedroom. When the owner asked to leave the iron, he accidentally connected the electricity to the fire. He denied the criminal suspicion. The fire department was detained. The Criminal Evidence department was investigated and released from incident No. 5887. The Department of Criminal Investigation investigates the incident.
On the other hand, fire broke out in an empty plot of land next to the wall for vocational training in the city of Minuf, department of the department.
The fire and the civilian protection forces were extinguished The fire, caused by a quantity of hayesh and mosquito nets, was extinguished in an area of ​​about 40 meters, the fire was checked and could not spread to neighboring places.
A 45-year-old guard in the vocational training center was probably the cause of the fire. A passerby was thrown after a burning cigarette that ignited the fire and denied the criminal suspicion. Criminal Investigation, and released from the incident. 2237 administrative division of exile for 2018 and ordered the Criminal Investigation Department to investigate the incident.
Source link