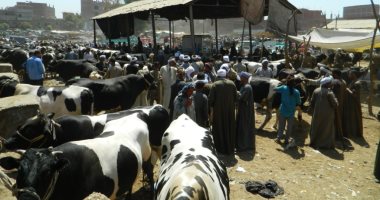 In preparation for Eid al-Adha, the General Organization for Export and Import Control received a number of letters of imported meat, varying from chilled and frozen meat, sheep and poultry with a total of 95 thousand and 256 tons, as well as receiving livestock headers with total 13 A total of 93 heads with 11,752 live calves and 1,341 live camels.
This came in a report received by the Minister of Trade and Industry, Eng. Amr Nassar, on Monday of the General Organization for Export and Import Control on the quantities of meat and livestock imported and received by the Commission during the last 3 months
In this context, Eng Ismail Jaber, Chairman of the General Authority for Export and Import Control, stressed the Commission's commitment to apply standards and standard specifications to all imported products, in particular food products, as regards the health and safety of the Egyptian consumer. For trade on the local market
Over the last indicators related to the activities of the General Organization for Export and Import Control during the last two months (mid-June to mid-August), Jaber pointed out that the Commission received 51 thousand and 662 various letters, including 34 thousand and 493 industrial letters and 17 thousand and 169 food messages and that the results corresponded to 50 thousand and 886 messages, while 776 messages were rejected because they did not meet Egyptian and international standards.
He said that the number of acceptable food messages reached 16,708, with the main import goods being grains, meat and fish. The number of rejected food reports reached 461, with all sorts of cheese, additives, frozen butter, perfumes and cosmetics. The number of approvals issued for strategic goods during the reporting period was 360, with 226 letters of maize, 71 letters of wheat and 63 messages of soybeans.
Jaber pointed out that the number of industrial letters corresponded to 34 thousand and 178 letters, including the main items of imported industrial sanitary ware, iron, armament, cement, tableware, paper, soap, clothing and furniture, noting that the number of industrial letters is 315 letters. rejected, The main industrial items are rejected in toys, cut stones, abrasives, faucets, ceramics, detergents, adhesives, paint.
Source link