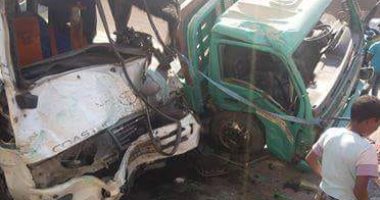 One person was killed and four others were injured in a road accident when a car collided during a wedding in Menia.
Maj. Gen. Magdy Amer, Assistant Minister of Home Affairs for Minya Security, received a notification from Sergeant Magdy Salem, director of the Criminal Investigation Department of the Menia Security Directorate, stating that Alaa & A, 18, a student and resident of the village Damares, P. 23 years old university student and marwan a. P. 22 year old university student and Ashraf ا. M. 20 years worker and Mustafa P. 17 years old student, all living in the village of Damares, Minya Center.
He immediately moved to the location of the village of Talah, which went to the village of Abu Ayyad Minya Center, Brig. Rafat Halawani, officer of the police station of Minya, Colonel Ahmed Yusra, head of the investigation and the investigation team, led and discovered the accident by collision of two cars during the wedding of two brides. .
While the first and second wounded were transferred to complete the treatment at Menia University Hospital, according to the doctor's report, Dr. Minya health inspector. Hani Ishaq Shehata about the causes of death of the deceased: fracture of the skull bones and serious bleeding of the brain and respiratory problems and fractures of involvement and internal bleeding in the abdomen and pelvis and there is no punishable suspicion in death.
A report of the incident was released and the Public Prosecution Service conducted the investigation under the supervision of adviser Ahmed El-Agouz, the chief prosecutor of the Minya Center.
Source link