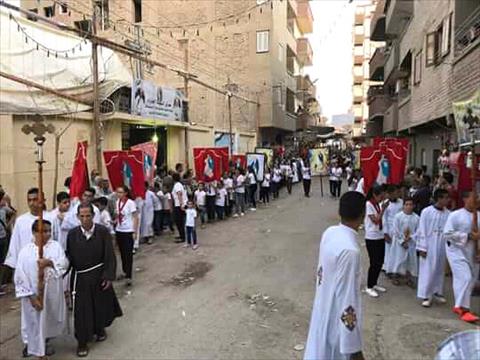 Assiut – Younis Darwish


Posted in:
Wednesday, August 22, 2018 – 11:18 p
| Last updated:
Wednesday, August 22, 2018 – 11:18 p

More than one million visitors from Christians and Muslims in Asyut and other governorates and churches from the Arab, African and European countries celebrated Tuesday evening during the last night of the Assumption of the Virgin Mary in Deir Drenka, amid an intensive security presence of the police and armed forces. Arab and foreign countries.
The year of the renaissance of the Virgin Mary was marked by the arrival of large numbers, delegations and visitors from the churches of Ethiopia, Uganda, Sudan, Iraq, Morocco, Lebanon, Eritrea, South Africa, Jerusalem, Rome, Great Britain and Mexico, as well as visitors from America, London and Paris, as well as all Egyptian churches. Almost 3 million visitors.
In his last sermon before the end of the celebrations, Bishop Yoannes, bishop of Assiut, and the coast of Selim and Badari said that the celebrations of the Feast of the Blessed Virgin Mary this year witnessed an increase in the number of visitors and delegations of churches from Ethiopia, Eritrea, Sudan and South Africa. The message of peace from Assiut to the world that Egypt is a land of safety and security.
"Asyut is the heart and capital of Upper Egypt, where the largest monastery for the Virgin Mary is, where Muslims and Copts live in peace and security and where there is no place for the enemies of the homeland." Assiut and Egypt open in general their arms for all sons of Arab and foreign countries to achieve peace, love and economic and social security. "
The celebration of the last night of the Assumption of the Virgin began on Tuesday afternoon and lasted until the early hours of Wednesday. Thousands of Copts participated in Deir Drenka, Assiut Governorate in Dora, or the icon of the Virgin Mary, led by Abba Younis More than 150 Shamans and priests Maryam, led by young children, toured through all parts of the monastery and followed it Renaissance prayer and the prayer of praise and then the sermon of the bishop of St. John Assiut.
The monastery of the Virgin in Drunka is one of the most important religious and tourist places in Assiut, the monastery of the Virgin in the western Assiut mountain lies 120 meters above the level of farmland, the last place occupied by the Holy Family in Egypt .
She stressed that there was no truth in the rumors about the incidence of Muslim participation in the convent celebrations, and explained that it was part of a delegation from the secretariat of the "future of the homeland". Muslims participated in the distribution and organization of the monastery and saw hundreds of Muslim women and men during Renaissance celebrations in kind make vows De Maagd.
Source link