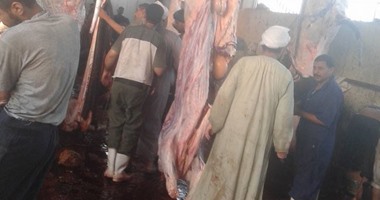 General Ahmed Bassiouni, assistant secretary of the Alexandria government, imposed the immediate fine on 6 fines in six slaughterhouses, which was in violation of the environmental conditions of slaughter and the instructions of the Veterinary Medicine Directorate.
Dr. Mohamed Sultan, governor of Alexandria, General Ahmed Bassiouni, deputy secretary general of the government, today ordered the slaughterhouses in the government to indicate whether these shops comply with the environmental regulations and conditions for slaughter and cleaning operations in their environment. Second day of Eid al-Adha.
The deputy secretary inspected several other butchers in the province, who were stressed by the abattoir and collected first-hand waste products and paid attention to the cleanliness of the places next to those stores. They were warned to impose severe penalties for slaughter on the street and immediately close the stores.
The assistant secretary also forwarded the government's monitoring department and environmental monitoring to all district-level butcher's on an unexpected and continuous basis.
The assistant secretary pointed out that Dr. Mohamed Sultan, governor of Alexandria, accused the slaughter of the sacrifice for civilians during Eid days free of charge in the slaughter of the government, and the mass murder of meat in Ameriya and the Abu Qir massacre, citizens to those massacres and not slaughter on the streets to preserve the environment around them.
Source link