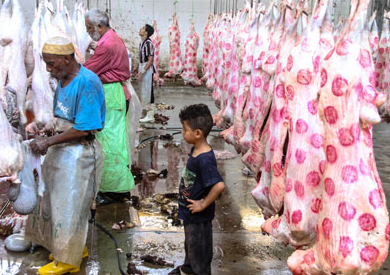 Dina El Naggar


Posted in:
Wednesday, August 22, 2018 – 16:26 hours
| Last updated:
Wednesday, August 22, 2018 – 16:26 hours

Dr. Osama Ibrahim, director general of Giza's massacres, said that Kerdasa's massacres had 45 sacrifices on the first day of Eid al-Adha and 35 on the second day so far.
The director of the murders of Giza, in commentary on the space of "Extra News", on Wednesday, that the massacres received by the massacres not only the sacrifices of civilians, but also the victims of civil societies, stressing that the number of sacrifices every year increases.
He explained that the massacres had been prepared for Eid al-Adha, by detecting veterinary frameworks to detect the slaughter, to preserve the health of the citizens and also to supply sufficient quantities of detergents to make the external environment of pollution and odors unpleasant. to hold.
He stressed the opening of all bloodbaths of citizens free of charge throughout Eid al-Adha, without a specific date and even the last sacrifice in the slaughterhouse.
Source link