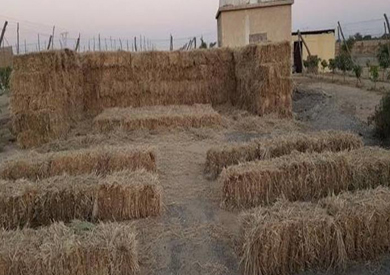 Books – Islam Abdel Maabood:


Posted in:
Tuesday, August 28, 2018 – 1:40 PM
| Last updated:
Tuesday, August 28, 2018 – 1:40 PM

The Minister for the Environment, Yasmine Fouad, has announced the preparation of a cooperation protocol between the Ministries of Environment and Agriculture for supplying a sufficient number of "Muffram and rice straw presses for various governments", taking into account the specific character of each province, noting the importance of meeting the challenges through cooperation with various ministries, local units, governorates and places of worship to promote Egypt.
This came during the extensive conference that the minister held on Tuesday in the Grand Congress Hall in the General Court of the Dakahlia government in the presence of Governor Ahmed Al Shaarawi, the leaders of the Environmental Affairs Agency, the regional department of the Dakahlia Agency, the heads of local units and officials of agricultural cooperatives.
She stressed the effective role of the regional branches of the EEA, which are spread across Egypt as the main areas of environmental action in the environmental field, pointing out that dealing with the burning of rice straw and the use of agricultural residues and vegetable residues gives positive results. for farmers and the environment and employment offers for young people through economic projects. Leads to a change in the positive sense of citizens for the environment.
The minister praised the proactive decisions of the Dakahlia governor to create operating rooms in local units and service departments to monitor the efforts to prevent the burning of rice straw before the start of the harvest season.
The governor of Dakahlia stressed the commitment of farmers to take decisions to prevent the burning of rice straw and not to register cases of violation of those decisions, noting that the farmer benefited from straw for 350 pounds compared to tons of straw and not burnt, and called the citizens to be themselves and themselves for any violations of public health and the environment, and stressed the increase in the number of equipment to take advantage of rice straw.
For its part, Deputy Minister of Agriculture Dakahlia Mohammed Abdullah, the acreage planted in rice province this year, was 228 thousand and 557 hectares, resulting in 457 thousand tons of rice straw.
After the conference, the minister, accompanied by the governor of Dakahlia, visited the center of Sinbillawin to witness the field experience of the dampers and pistons at the site of agricultural mechanization.
Source link