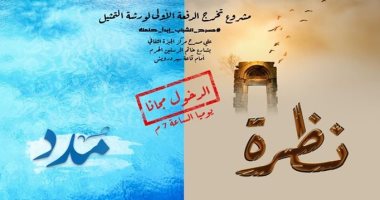 On Sunday (2 September) a number of cultural and artistic events will be held in a number of cultural institutions and centers, including:
& # 39; Enas Abdel Dayem, Minister of Culture, witnessing the graduation of the first class of the theater workshop & # 39; Start Your Dream & # 39 ;. The show will be held at the Cultural Center Theater of Giza of the General Authority for Cultural Palaces. President of the Artistic House of the Theater, Dr. Ahmed Awad, Chairman of the General Authority for Cultural Palaces.
The Dutch cultural center in Cairo will hold a lecture entitled "Iraqi cultural guard: renewed efforts to restore the Iraqi cultural heritage" by researcher Faraj Babiczitz, and will discuss ways in which Iraqis, archaeologists and international specialists try the Iraqi heritage management system in Iraq. to protect and restore. .
The Egyptian Film Critics Association holds a screening of the American film Das Boot By Wolfgang Petersen, at 19:00 at the headquarters of the Society in the center of film culture in the middle of the country, followed by a discussion by critic Rasha Hosny.
The House of the Six houses the house of Arabic poetry & # 39; of the Sector Cultural Development Fund at 7.00 pm, a poetry evening commemorating the departure of the great poet Salah Abdel Sabour, and is attended by a number of poets and critics, including Ahmed Abd El Moati Hegazy, Hassan Taleb, Ahmed Mujahid, Muhammad Sulaiman, Foulat Abdullah Al-Anwar, Shaaban Yousef, and presented by the poet Al-Safra Abdullah.
The Chinese Cultural Center in Cairo will welcome the China Central Ballet Dance Group at 6 pm in the exhibition hall of the center and will present various performances, a definition of Chinese ballet art and an open dialogue with exhibitors.
The Cultural Committee of the Syndicate of Journalists held a seminar at 6 pm to discuss the book "Turkey, the Kurds and the Future". The event will take place in Taha Hussein Hall on the fourth floor of the trade union building in the center of Cairo. Helwan, and Dr Mahmoud Zayed, a professor of history at the Al-Azhar University, specialized in Kurdish affairs and the seminar was moderated by Ayman Sharaf.
Source link