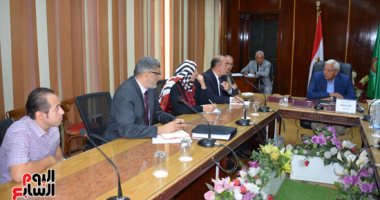 Dr. Scary. Kamal Sharobim, governor of Dakahlia, announced on Monday that the implementation of the metro project in the city of Mansoura is a dream for the people of Dakahlia, we are trying to reach it on the ground to eliminate traffic problems and the transfer of civilians and the suffering of to enlighten them.
The governor made the remarks during a meeting with engineer Tarek Abu Al-Wafa, vice president of the Metro Authority at the Ministry of Transport, in the presence of representatives of a consultancy firm and a number of professors from the Faculty of Engineering in Mansoura.
Sharubim emphasized the need to join all efforts to realize the dream of Dakahlia's sons to implement this project, a cultural leap forward development of the province, in which all obstacles are overcome by all executive bodies in the province and provide for all the requirements of the Commission and the preparatory study committees of the project, which is the preparation of the master plan for future extensions of the city of Mansoura, as well as maps of utility networks such as water, sanitation, telephones, electricity and gas.
The governor of Dakahlia said that it was decided to draw up an integrated declaration on the public and internal positions of the city and the work of an extensive census of the vital places and population density in and around the city, and decided during the meeting. the start of the preliminary study of the project in early October and ends in a maximum of four months.
Source link