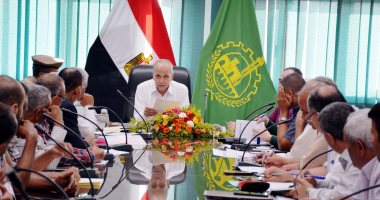 Major General Mahmoud Ashmawi, governor of Qalioubia, announced the delivery of goods at reduced prices to citizens at points of sale selling consumer goods, to relieve the burden of the citizen and to continuously monitor the availability of such goods during the Eid al-Adha. guarantees.
He stressed the Governor, the Board of Supply to supply all ration goods, in addition to coordinating with suppliers of petroleum materials, to provide all the requirements of the province during the days of Eid.
The governor gave instructions to the Directorate of Health and in coordination with the Directorate for Supply and Veterinary Medicine to follow a number of procedures that read as follows:
– Strict control of the outlets for processed and frozen meat and butcher shops and to check to what extent they meet the health requirements.
– Offer meat in a healthy and healthy way in coordination with other regulatory authorities such as catering, veterinary medicine and health in joint campaigns to strengthen controls on meat shops and slaughtered and frozen birds to ensure compliance with health requirements.
– Ensure that workers comply with health requirements when handling food and health certificates to demonstrate their absence from infectious diseases, as well as product safety and delivery and compliance with specifications and withdrawal of samples and dispatched to laboratories.
– Traffic on refrigerators to store frozen meat and fish and to monitor them and to ensure their validity and retention of natural properties and free from signs of damage and control over the invalid and legal action against them.
– Control of cars that transport meat and ensure compliance with health requirements.
– Strengthen the control of street vendors and ensure that their food supply is fit for human consumption and control over banned substances and take legal action against offenders to implement resolution 707 of 1967 in this respect.
Source link