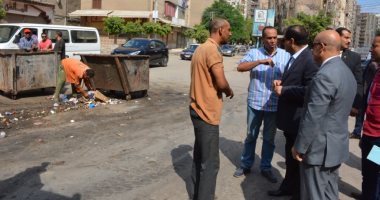 Major General Ahmed Deif Saqr Governor of Al Gharbia, Director of the Facilities Department, removed all the worries from the streets and warned the owners of cafes and shops to keep their way and not to place chairs on the street to prevent traffic congestion and maintain the aesthetic appearance of the streets.
This happened during the tour of the governor of Al Gharbia on Monday, the first district of Tanta, where the tour began with the inspection of the streets of Joseph Siddiq and Kafr Essam and Qantara Street and the transfer station Tanta Channel navigation, and then the streets inspected from Said and Shouki and Batras and Mahab and Tutankhamun.
During the tour, the governor of Gharbia insisted on the need to intensify the street cleaning and operation of all existing equipment and the necessary maintenance work to ensure his work with complete efficiency. He ordered the Director of the Directorate-General Health of the Governor to spray the places of waste collection on the street after being periodically removed to maintain hygiene.
The governor of Gharbia was accompanied by Major General Talaat Mansour, secretary general of the government, Eng. Fathi Abdel Ghani, deputy secretary general of the government, and Mohamed Metwally, head of the first district of Tanta.
Source link