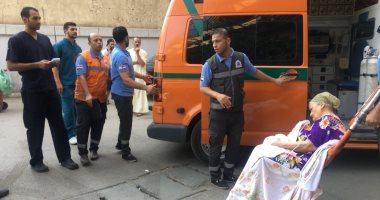 One employee was injured by sporadic injuries, after the collision of a car with the case of Abora the regional road Sadat Kafr Dawood, Governance Menoufia.
Major General Samir Salah Abu Zamil, Director of Safety at Menoufia, received a notification from Maj. Gen. Sayed Sultan, director of the Criminal Investigation Department, stating that he had been receiving General Sadat Hospital (ASM) for 22 years, an employee and occupant of the department of the center..
The transfer and investigation and his question concluded that if he crossed the regional road Sadat Kafr Dawood Center, was hit by the car of the leadership of the "ARA" leadership for 26 years, without work and resident of the island Dahab Giza and denied the criminal suspicion .
When he asked the driver of the car, he admitted that he had unintentionally committed the incident, held the driver, released the required record, and ordered the Criminal Investigation Department to investigate the incident. .
Source link