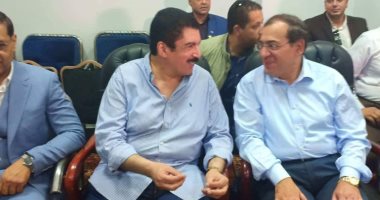 Minister of Petroleum Tariq Al-Mulla announced that there is a plan for the supply of gas to 20,000 customers in Shubra Al-Khaimah in 2018. He pointed out that the supply of gas to around 12 thousand customers so far and the completion of the rest of the work to complete the required plan, and 59 factories in the region & # 39; s And 2 auto-supply stations.
Dr. Tariq Al-Mulla said the ministry attaches great importance to the supply of gas to the social housing areas, which were connected with the intersection, Al-Khanka, and in particular with Qaliub and Tukh. The delivery was completed for 1840 customers. The gas will be delivered for the first time this year, Bakira, Kufr Abu Zekri and With Asim.
This came during the meeting with Dr. Alaa Abdel Halim, governor of Qalioubia, engineer Tariq El Mulla, Minister of Petroleum at Shoubra El Kheima City, to inspect the project of supplying natural gas to houses in the city, in the presence of Eng Yasser Salah, president of Egypt Gas Company. General Qalioubiya area.
The minister added that the gas will be delivered in the areas Tanash and Al-Ayyat in Giza and the national dwellings on the tenth of Ramadan, and without Kafr Al-Sheikh and the village of Riad Pasha Beni Suef, and the Asmarat project in Cairo.
Source link