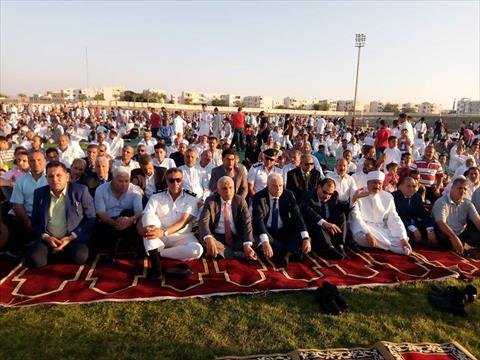 South Sinai – Reda El Hosary


Posted in:
Tuesday, August 21, 2018 – 12:59 PM
| Last updated:
Tuesday, August 21, 2018 – 12:59 PM

Major General Khaled Fouda, governor of South Sinai and Major General Ahmed Abu Aqil, Director of Security, delivered the Eid al-Adha prayer at the Stadium of Tour Sinai Stadium in the city of Tur in the presence of Major General Mahmoud Issa , Secretary General, Major General Mohammad Khreisa, Deputy Director of Security, Major General Medhat Al Sakka, Director of Criminal Investigation, Hammam, Head of the City of Tor Sinai, Ismail al-Rawi, Under-Secretary of the Ministry of Awqaf and a large number of executives in the province and delegations of citizens.
Mahmoud Salah, the head of imams and preachers in South Sinai, gave the Eid sermon, talked about the ethics of the feast and the importance of the connection of the womb. He also called Egypt to protect it, its people, its army and its regime against all evil.
The governor exchanged greetings with the mass of the worshipers, the city witnessed unprecedented security measures, closed the roads to the car park and the work of a campus of all directions, 500 meters and a massive deployment of security forces, ambulances and civil protection, traffic and access of worshipers via electronic gates.
It is worth noting that the preparation and processing of 16 yards to pray and 52 mosques were prepared to perform Eid al-Adha prayer at the level of the governor.
Source link