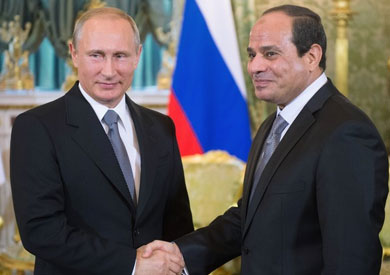 Dina El Naggar


Posted in:
Tuesday, October 16, 2018 – 3:41 p
| Last updated:
Tuesday, October 16, 2018 – 3:41 p

Ambassador Bassam Radhi, spokesman for the presidency of the republic, said that President Abdul Fattah al-Sisi's visit to Russia aims to promote economic cooperation between the two countries, pointing out the huge Russian investment in Egypt.
"There are huge projects for Russia in Egypt, including the Russian industrial zone at the Suez Canal and the Dabaa nuclear power plant, as well as the signing of a contract for the purchase of 1,300 train vehicles with one of the coalition companies," he said in a telephone interview about the DMC program. Russian Federation.
He added that the President "Sisi" met with the President of the Economic Commission of the Eurasian Union, in preparation for the negotiations with the Union to create a free trade area that benefits both parties, adding that the Eurasian Union is a very important economic block.
"President Sisi is expected to address the Russian Federal Council and the president is the first president of a foreign country to address the Federal Council," he said, noting the great status of Egypt in Russia.
On Monday, President Abdel Fattah al-Sisi arrived in Moscow for a three-day visit to meet his Russian counterpart Vladimir Putin to discuss a number of political and economic issues and issues of common interest.
President Sisi will hold several meetings on increasing Russian investment in Egypt, particularly in the economic zone of the Suez Canal, the expansion of the Russian industrial zone in Egypt and the increase in the number of incoming tourists to Egypt.
Source link