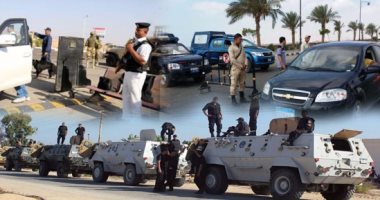 The police officers, in coordination with the neighborhoods, completed their safety preparations to secure Eid al-Adha, announced the safety warning, raised the iron barriers and debris, removed the banners without a license and coordinated with the other ministries the sheep sales sites evacuate and check the street. Abandoned and scooters.
The central administration of the police for tourism and antiquities has announced that it is prepared to secure tourist facilities and archaeological areas during the Eid. The operating room of the central region was connected to the southern regions of Upper Egypt, the Sinai and the canal. The archaeological sites in the Pyramid, the Cairo Citadel, Hurghada and Sharm El Sheikh have made intensive preparations for the care of Egyptians and foreigners.
Major General Mustafa Ansi, assistant to the Minister of the Interior of the Police for Security and Insurance, followed the efforts of the administration in the field of insurance and also called for the security campaigns against the archaeological areas to intensify, the presence of street vendors prevent and remove the violations in coordination with the police. Tourist buses and view their licenses.
The Minister of the Interior, Mahmoud Tawfiq, continues the campaigns of the police in order to remove the activities in the vicinity of the prayer yards, especially the squares in the squares and streets in the Cairo area and the coordination with the traffic to avoid traffic and avoid prayer.
Source link