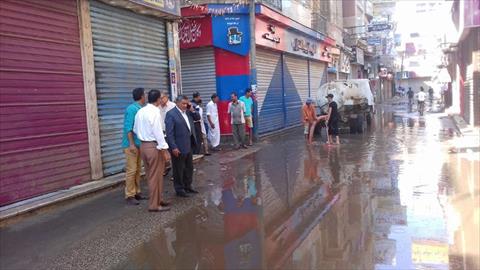 Kaliobeya – Khaled Mohamed


Posted in:
Tuesday, August 21, 2018 – 2:52 PM
| Last updated:
Tuesday, August 21, 2018 – 2:52 PM

There was a state of dissatisfaction among the people of Shebin al-Qanater, because of the sinking of the streets with sewers and water cut out during the celebration of the first day of Eid al-Adha.
For his part, Major General Mahmoud Ashmawi, governor of Qalioubia, with the president of the city of Shebin al-Qanater, the executive and the holding company for drinking water and sanitation, the work of holidays and the explosion that took place in a sewer.
Mohammed al-Husseini, the head of the city of Shebin al-Qanater, had an explosion in one of the sewer lines in the city. He immediately moved to the location of the report and discovered a sudden collapse of the sewage pipeline in Hussein Rushdie Street.
Al-Husseini said that the engineers and specialists in the drinking water and sewerage business in Qaliubiya were paid and that the repairs were repaired. He said the water was temporarily cut off and the cars were provided with drinking water until the repair was complete .
Source link