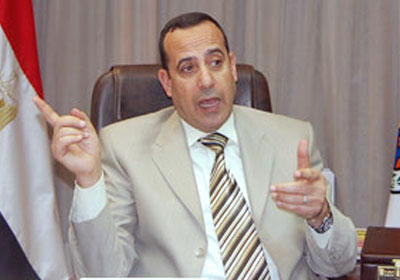 Mustafa Singer wrote:


Posted in:
Sunday, September 2, 2018 – 3.35 pm
| Last updated:
Sunday, September 2, 2018 – 3.35 pm

General Abdul Fadhel Shousha, governor of North Sinai, said that after the execution of the department, President Abdel Fattah al-Sisi told him that you are going to this province to start the development and reconstruction phase, and I want the thesis on to apply the land of Sinai ».
This came at the first meeting after Shusha took office in the Diwan of the province in the presence of former governor Abdul Fattah Harhour and his deputy general Hisham Al-Khouli and Abdul-Alal Badri, deputy secretary general of the province and executive leaders and head of the cities.
Major General Shousha explained that we are used to the difficult tasks and take them into military action. We complement this in civil responsibility. I am a supporter of collective action. I will put pressure on some disciplines that have the strategic objective. of reconstruction and development. And will start with achieving a large and difficult work with an integrated collective system.
The Governor discussed with the former Major General Harhour the outstanding issues and we stayed until 1 o'clock in the break, pointing to the harmony of the previous and following work with the aim of achieving the objectives of the mission for the development of Sinai. .
"We will give each Director-General a time plan for his work within two days and prioritize the topics in which he works in his interest to achieve the goals of the work and start with the Directorate of Education to get closer to the beginning of the school year and then the rest of the districts and cities to come.
"There is a near-relapse of comprehensive operations that will help us achieve our desired goals in the province of North Sinai and we will try the Rabbaniyah subsidy trial," said the governor.
Major General Shousha presented his deputy, Major General Hisham al-Khouli, who said that instructions he gave are instructions that are consistent with my vision and must be applied. He is a representative who fully represents me in the work and by his previous education in the army is able to achieve the goal.
Source link