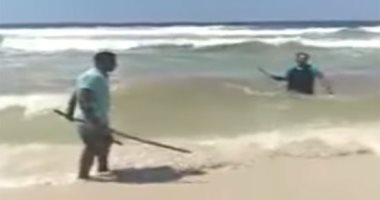 In the name of Dekheila, Alexandria, she hears today the words of the wife of the deceased beach of Abu Youssef in Alexandria after she heard the statements of the suspect and decided to hold him for 15 days while awaiting an investigation.
It is worth mentioning that Major General Mohammed Al-Sharif, Deputy Minister, Director of Alexandria Security, received a message from the Dekheila police department of the Najda police station in the presence of an argument and died in a beach in the Abu Yusuf district. .
A 40-year-old brawl broke the skullbone and cut off parts of the body and died and a second party, 39 years without work, because of the first wife of the second woman while they were on the beach. Referring to a verbal exchange of words between them, to a fight and the second in which the first hit with a knife was in possession of an injury that claimed his life, and supported the incident saw a vision.
The officers of the Department's Investigation Unit were able to seize the suspect and the instrument used. The body was kept in the mortuary room in the hospital of Mabrat al-Asafra West, and the Ministry of Criminal Investigation was instructed to investigate the incident and the minutes of 9960/2018 were released.
Source link