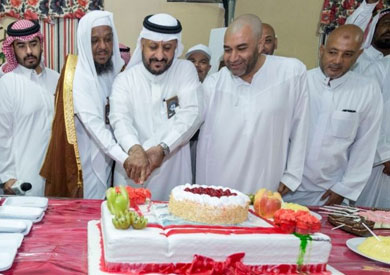 Posted in:
Wednesday, August 22, 2018 – 4:48 p
| Last updated:
Wednesday, August 22, 2018 – 4:48 p

The secretary-general of the guardian of the two holy mosques organized a feast for the guests of the program of the families of the martyrs and the wounded of the Egyptian army and the police. According to Saudi Press Agency (SPA).
The ceremony was attended by the Chairman of the Committee of Pilgrims of Egypt Abdul Aziz bin Nasser Saleh, the head of the Hajj pilgrims' delegation in Egypt, Major General Ashraf Sharif, and the heads of the committees working in the program and a number of Egyptian pilgrims.
The ceremony witnessed the exchange of invitations and wanted to accept the pilgrimage of everyone and to preserve the country of the Muslims.
Source link