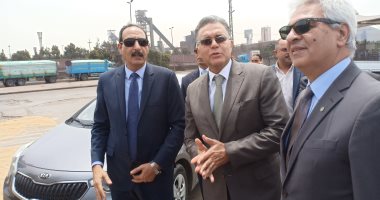 The Minister of Transport, Dr. Hisham Arafat, visited South Sinai on Saturday to receive the pilgrim regiment and the inauguration of the port Taba al-Bari after the development, in the presence of Major General Khaled Fouda, governor of South Sinai.
The governor stated that the Minister of Transport is scheduled to inspect the port of Nuweiba to determine the readiness of the port to receive the pilgrims from the house of God, and to provide all facilities in the reception halls, and one of the regiments of the pilgrimages of the sea.
The minister pointed out that the Minister of Transport will go to the city of Taba to inspect the developments that have been completed in the country port of Taba to develop the arrival and departure halls and the construction of a parking space and the installation of electronic gates at inspect all entrances and exits of the port, in addition to the development of the whole security system against total costs of TO LE 60 million and the port of 22 security cameras to provide for monitoring the movement within the port, in addition to the establishment of security checkpoints from the Egyptian and Israeli sides.
A one-stop shop was completed to speed up the procedures for passengers traveling to and from the Taba country port as quickly as possible.
Source link