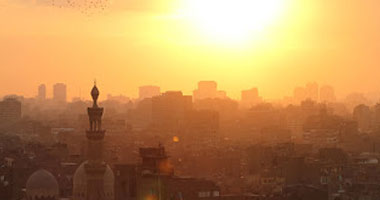 We predict the weather conditions in Egypt and some Arab countries on Tuesday. In Egypt, weather forecasters expect the mild weather on the northern coasts to be warm on the face of the sea and Cairo in the north of Upper Egypt, which is very hot at night in southern Upper Egypt.
Today's weather in Egypt
Meteorologists also predict that the visibility of the water pipe in the north of the country will decrease, as there will be few clouds in the north of the country and the wind will usually be northwestern temperate.
In the case of the Mediterranean it is moderate with a wave height of 1.5 m to 2 m. Surface winds are northwest and for the Red Sea it is mediocre with a wave height of 1.5 m to 2 m and the surface wind is northwest.
Weather in Jordan
Day: Temperatures remain around this time of the year and the summer weather is moderate to normal in most areas with low clouds in the morning. It is warm in the regions of the Jordan Valley, the Dead Sea and Aqaba, and the wind is moderate to moderate in the northwest, active in the afternoon and evening.
In the Gulf of Aqaba, wind: north, moderate to active speed, sea-state and surf height: slight wave height (10-30 cm), sea surface temperature: 27 ° C.
At night, a pleasant and humid atmosphere prevails in all areas, and the wind is northwesternly temperate.
The weather in Palestine
There is no significant temperature change, so it stays around this time of the year. The weather is relatively warm to hot in all regions, and the heat is very heavy in the Jordan Valley and the Dead Sea. Winds are from west to northwest, mild to moderate.
Source link