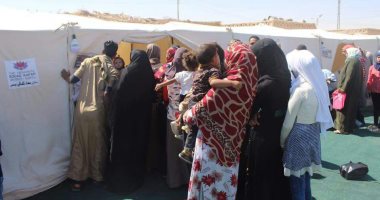 The Directorate of Public Health in the Lake, in coordination with the therapeutic care sector of the Ministry of Health and Population, carried out a medical convoy in the village of Zawyet Salem of the city and the city of Abu al-Matamir.
The convoy resulted in the detection of 1226 patients via 11 clinics, including children's specialties, ophthalmology, women, abdomen and skin, teeth and heart, as well as 29 of the transferred patients.
Radiology, early detection, health awareness and cardiology were performed for 933 patients through blood, parasite, early detection, sound waves and health education.
For his part, Dr. Alaa Othman, undersecretary of the Ministry of Health in Lake, to intensify efforts to improve health care and provide therapeutic care needed for citizens and the implementation of medical convoys in cities and centers of the province, especially the remote areas and the desert back of the province.
Source link