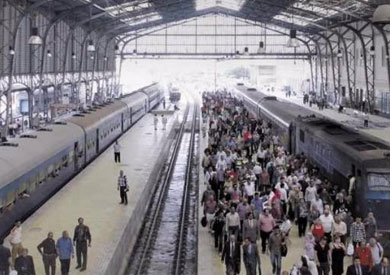 Mohammed Abdul Jalil


Posted:
Monday, August 20, 2018 – 1:45 p
| Last updated:
Monday, August 20, 2018 – 1:45 p

Engineer Sami Abdel Aziz, vice president of the Egyptian National Railways Authority, unveiled the Authority's preparations to receive the Eid al-Adha, saying that the Authority is always trying to pay more trains and additional vehicles during the holidays to provide more seating for passengers. Abdul Aziz, "during his remarks about the program" public opinion ", broadcast via satellite« ten », on Sunday, 148 extra trains were paid during the days of the party, with approximately 180,000 seats, indicating the existence of daily monitoring 24 hours to monitor the congestion Passengers on the sidewalks, or a ticket request

He stated that the Commission is working to limit the sale of train tickets on the black market, noting that a number of procedures have been followed, the most important of which is booking via the national identity card, up to a maximum of 4 tickets per trip.

In the same context he explained that a number of seats are available online, Seats, in addition to booking 70% of the total number of tickets at the Cairo station , as a central reservation for checking tickets.

He pointed out the coordination with the police for transport and communication for the black markets and the insurances Lagname of violators to reduce, The provinces of the Republic.
Source link