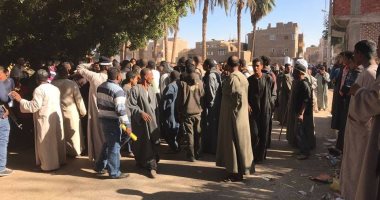 8 people were injured by sporadic injuries to the body in the village of Qubaisat Tahta police station after a quarrel between them due to differences in neighborhood, and the wounded were transferred to the Tahta General Hospital for treatment.
The director of the Sohag security service had received a report from the deputy director of the northern sector, reported an argument in the department of the Tahta police station north of the province and the presence of wounded.
A 17-year-old housewife and a 16-year-old housewife, Tayseer Akh, a housewife and a housewife, 48-year-old housewife and "Jawhar H." 27-year-old worker with "scalp wounds"He said.
A second party, Mohamed Al-Aal, 28, a laborer, and 45-year-old Ali, were injured by "sporadic bruises on the body", "Hamad Khale", 17 years old, and "They live in the same area as a result of differences in neighborhood.
The two sides of the quarrel were arrested and faced with the contents of the above: they accused each other of abusing each other by hitting and causing the above injuries. The first of the first party added that the first of the second party a part of the fire tossed and the roof of his house covered with reeds and palm branches burned. The Criminal Evidence department was informed of the technical investigation and the Ministry of Criminal Investigation was given the task of investigating the incident and the minutes of the Center's procedures for the year 2018 were released..
Source link