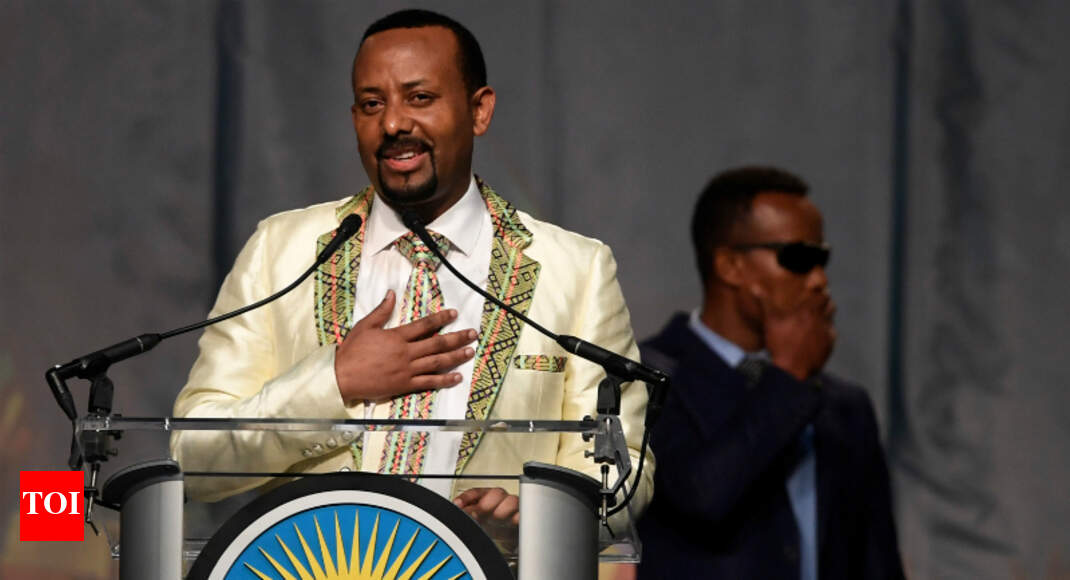 CHELELEKTU, ETHIOPIA: Shiburu Kutuyu, a 45-year-old Ethiopian corn and coffee farmer, was shaken by gunshots one night in June. He told his wife and seven children to flee.
They returned and discovered that their house was burned with the mud walls, but not a sign of Shiburu. Eleven days later fellow farmers found his body hanging on a tree, his severed limbs on the ground.
"A group of Oromo youths killed him in the most gruesome way," Shiburu's brother-in-law Mulugeta Samuel told Reuters from one of the dozens of camps in southern Ethiopia full of people fleeing the violence between two ethnic groups: the Oromo and the Gedeo.
A wave of ethnic violence, sometimes in the form of mob attacks, has displaced nearly 1 million people in the south of Ethiopia over the past four months and gives a sense of bad feeling among ethnic groups in other regions.
The violence threatens to undermine the calls of Prime Minister Abiy Ahmed to unity in one of the most ethnically diverse countries in Africa. It also overshadows the popular liberal measures he has announced since he came to power in April.
Some observers say that young men from Abiy's ethnic group, the Oromo, have been encouraged by his attendance and other groups attacking revenge for years of marginalization.
Ethiopia's security device is gaining momentum since Abiy announced reform plans, said Asnake Kefale, an assistant professor of politics at the University of Addis Ababa. "Some people have used this state of affairs," he said.
On Thursday, Sorri Dinka, spokesman for the Oromiya Police Commission, said that authorities are taking action against those suspected of ethnically motivated crimes.
He called the so-called "qeerroo", a term used to describe young Oromo men who were involved in the protest movement of the past three years and who culminated in the resignation of former Prime Minister Hailemariam Desalegn.
Some people who fled their homes still believe that the federal government and local authorities are failing to stop violence against them.
Tihun Negatu escaped an attack on her village in June. She and her two children live in a school that has been converted into a shelter, with the clothes in which they fled.
"The government is not prepared to bring them to justice," she said about the Oromo men who drove her farming community out of the country and set fire to her house and a bar that she ran.
The government denies an eye to pinch. Federal head of disaster management Mitiku Kassa said a committee of ministers and regional officials has been formed to oversee rehabilitation and reconciliation efforts.
He told Reuters that almost 400 people in Oromiya were arrested on suspicion of inciting violence between Gedeos and Oromos. "If it has not stopped altogether, such incidents are very dangerous for the country because they can spread," he said.
The government has encouraged older people in both communities to seek reconciliation. Local council meetings take place regularly, although they may not have stopped the violence.
Officials in camps who visited Reuters last week said that about five children die every day due to illness and hunger.
Plans to bring displaced populations back to their homelands caused protests this month by people who said their safety was not guaranteed.
Changes:
One of the boldest moves of Abiy was to loosen the grip of a state that had ruled with an iron fist. He has said that security forces must be curbed, emergency relief has been lifted and thousands of political prisoners have been released.
Abiy, 42, drove the wave of anti-government unrest that had its origins in his Oromiya region. He was appointed by the ruling Ethiopian People's Revolutionary Democratic Front (EPRDF) because it tried to reduce ethnic tensions and appealed to dissatisfied youth.
However, the far-reaching changes have lifted the lid of historical conflicts over land, resources and local power. The underlying ethnic differences have also been extinguished.
The Gedeo, who for generations have lived as minorities in modern Oromiya, say that although they have committed violence in the past by Oromos, the worst attacks a day after Abiy began.
Since then, Abiy has traveled extensively through Ethiopia, but has not visited the areas where the Gedeo and Oromo fought.
He says that unspecified "forces with the aim of undermining peace and unity" are the fault of the violence. But some critics say that he has not tackled the main problem for fear of alienating his Oromo base.
"It is difficult for people to rely on your rhetoric unless you practically toil to bring lasting peace to all Ethiopians, regardless of their ethnic or religious background," wrote a diaspora group from Gedeos recently in an open letter to Abiy.
In a statement this week he recognized the mafia character of a part of the violence: "Changes have brought … armies righteousness, nourished by some segments of youth in some areas, undermining the rule of law."
The Prime Minister, who has been promoted in resolving conflicts, has received broad support since his appointment. Stickers with his face are plastered on many vehicles in Addis Ababa and other cities.
"He will not let this boat be rocked," said a Western diplomat in Addis Ababa, referring to the positive response Abiy received after taking office after three years of street protests in which security forces killed hundreds of people.
"But he risks further destabilization if he does not record the law."
Risk & # 39; s
The violence in South Ethiopia is one of many ethnic conflicts across the country.
Tens of thousands remain displaced by violence along the border between the Oromiya and Somali regions. Oromos accuse a local Somali paramilitary group of atrocities.
This month plundered property of minorities in the Jijiga region of the Somali region. The federal government said the unrest was being stoked by regional officials who had failed with authorities in Addis Ababa.
Other incidents, although isolated, show the risk of mob retaliation.
Earlier this month, a man was lynched and turned upside down on a public square in the Oromiya city Shashemene by a crowd who mistakenly suspected he was carrying a bomb. The police allowed no purpose, according to an eyewitness.
In June, several men of the Wolayta ethnic group were burned alive in the southern city of Hawassa by members of the rival Sidama ethnic group. According to witnesses interviewed by Reuters, the men had the target of Sidamas to form their own region.
The violence raises questions about the structure of the state: a federal republic where regional borders were crossed in 1994 on ethnic lines.
The EPRDF seized power after a long guerrilla war and said it would empower the marginalized ethnic groups after centuries of domination by Amharas.
Critics say that it has eroded national unity.
"The ethnic nature of our politics has emphasized our differences over the last 27 years," said opposition editor Lidetu Ayalew. "We have to find a way out if this country has to remain intact."

Source link