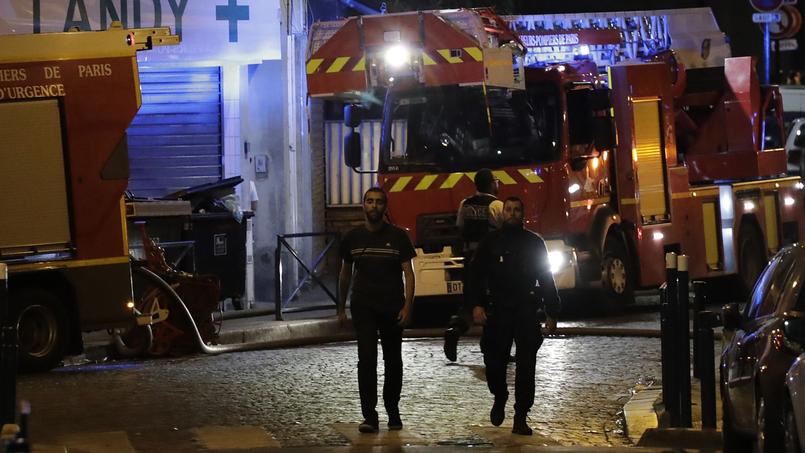 Five children are in "absolute urgency" and the prognosis of a woman was engaged, Sunday evening. Fifteen people were slightly affected.
On Sunday afternoon, fire broke out in Aubervilliers, Seine-Saint-Denis. Firefighters report seven serious injuries, including five children in "absolute emergency". Among these seven wounded was also a woman who was particularly affected and whose vital prognosis was recorded Sunday night, we learned from firefighters in Paris. Another resident had a heart attack but was able to be saved.
Fifteen people were slightly affected, including ten policemen who tried to evacuate the residents.
According to a police source, some residents of the house went through the windows to escape the flames and fumes and some sought refuge on the roof. The fire broke out around 7pm, under the eaves of a two-story building at 52, rue du Landy, and required the intervention of a hundred firefighters, the prefecture said.
The firefighters, assisted by forty trucks, managed to get the flames under control around 7:30 PM and to completely limit the disaster around 9 PM, they said. The causes of fire are undetermined and members of the scientific police were at work on Sunday evening to carry out the first investigations.
On Twitter, Gerard Collomb praised the & # 39; exemplary mobilization & # 39; of firefighters and police and he expressed his thoughts (…) to the wounded and the hospital. & # 39;
This is the second deadly fire in Aubervilliers in less than a month. On July 30, a fire in a town hall caused the death of a mother and her three children, while nine people were injured.
A 10-year-old child, suspected of causing the incident by playing with a lighter and a cloth in the building, was charged in this case. Punishment not responsible because of his age, he was forced to a degree of distance from the municipality. In the evenings, the communist mayor of Aubervilliers, Meriem Derkaoui, also praised the "courage" of firefighters and communal services, claiming that "the conditions for occupation remain[aient] tidy. "
Source link