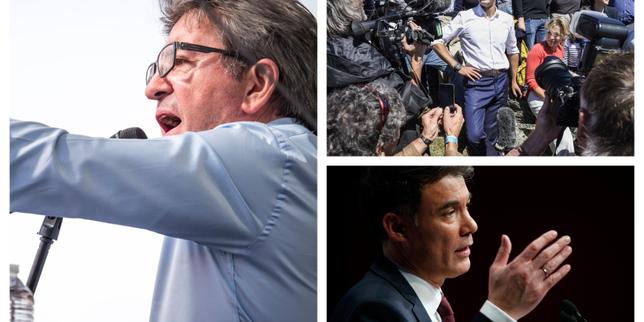 An overview of what needs to be learned from summer schools that ended on Sunday 26 August.
While all parties are preparing for the European elections scheduled for May 2019, four parties have organized their political return on Saturday 25 and Sunday 26 August. This is what you must remember.
Like last year, Jean-Luc Mélenchon chose to unite the militants and elected officials of La France in his city of Marseille in an uncompromising manner. On Saturday, August 25, in a speech of nearly two hours in the form of speeches of general policy, the deputy of Bouches-du-Rhône often turned to Emmanuel Macron.
By using the deadline of the European elections, which will take place in May 2019, he called in particular the French to use these elections as a "Anti-Macron referendum". "We're going to invite the French to defeat him, it's democracy! I'm talking about a democratic flogging," launched Jean-Luc Mélenchon.
For the renegade leader, vote "Against Macron" is a way of voting "Against liberal Europe", "Europe [de la chancelière allemande] Angela Merkel ", of which the president would be alone "The little copyist".
Read also:

In Marseilles, Jean-Luc Mélenchon promises "a democratic beating" against Emmanuel Macron

Laurent Wauquiez tried a power show on the right when he returned to politics in Mont Mézenc (Massif Central) on Sunday (August 26), with strong criticism of immigration and budget announcements. Edouard Philippe.
"I did not change my mind, I warned very early about the illusions of macronism, the purchasing power has not progressed, the insecurity has not diminished, the bureaucracy has not diminished, massive immigration is not arrested, Islamism has not stopped. This first year is a failure »said Mr. Wauquiez.
"There are too many taxes, there are too many taxes, there are too many costs, French trick under this burden, the middle class bends under this load, according to the former minister of Nicolas Sarkozy. I say to Emmanuel Macron: it is high time to give the money back to the French. We have to restore the purchasing power for the French. "
For almost an hour, in La Rochelle, the first secretary of the PS, Olivier Faure, presented his route map for the coming years in detail and answered point by point to all critics coming from his left wing – Emmanuel Maurel had not made the trip, preferred to go to the summer school of Jean-Luc Mélenchon – and his right wing, with hollandists shouting "More politics", according to Stéphane Le Foll, and especially less criticism of the former president of the republic.
The first secretary, often accused of not being "offensive" politically, took the lead this time by proposing to other leftist political formations "Common fights". He proposed the question of the refugees, dear Benoît Hamon "To all elected representatives from the left a common commitment to the reception and guidance of refugees".
Read also:

Olivier Faure proposes "common battles" on the left

The Communist Party, reunited in the summer university in Angers to Sunday, wants to be determined to fight politics "Liberal and devastating austerity" led by Emmanuel Macron and the European Union. "We have to get out of the sobriety in France, in Europe, to get back the money available, including that of the European Central Bank, to finance social and environmental policies"said PCF Secretary-General Pierre Laurent.
For a packed amphitheater, he promised that the return would be "Hot". "Macron's Season 2 will not resemble Season 1. More than half of the texts that were adopted in Parliament were by accelerated process or on order, it is a brutal and authoritarian method and it wants to continue. behind with the mobilization of spring and the Benalla affair. " Hospitals, pensions, freezing announced benefits, "Macron wants to go on the offensive". "No way to let go!"he assured.
Read also:
Source link