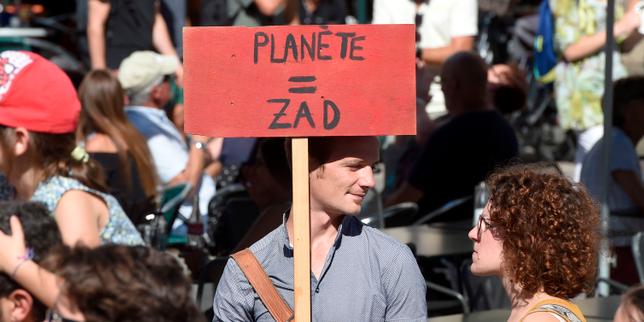 About 200 "zadistes" are trying to oppose the start of the construction of a 24 km long ring road that has to circumvent the city in the west.
More than 500 mobile gendarmes launched an operation around 5 am on Monday, September 10 to evacuate some 200 "zadistes" who are trying to oppose the start of the construction of a ring road around Strasbourg.
The police intervened with the help of their shields and tear gas to drop one hundred demonstrators en masse at the edge of this ZAD (defending area) to the entrance of the village of Kolbsheim, a few hundred meters away, said a journalist Agence France- Presse (AFP).
The gendarmes who were attacked with chainsaws at the improvised barricades made of wood and tires, which had placed the oppoasnts on the departmental road 93, passed through a helicopter without interruption.
A gendarme also used a shoe cutter to cut the chain that tied a demonstrator to a tree, while dozens of other law enforcement officers stood at a mill where barricaded Protestants.
The prefect of the Grand Est region, Jean-Luc Marx, had approved at the end of August the construction by a subsidiary of the Vinci and Sanef group of this 24 km long bypass west of Strasbourg.
Read also:

Strasbourg: the West Ring Road project re-launched

Call the tocsin
As they planned in the event of intervention by the police, the "zadists" who watched the tocsin called the arrival of the gendarmes shortly after 5 o'clock. "You scatter!", launched it using megaphones. "Resistance!", the opponents chanted in return.
Dany Karcher, the mayor of Kolbsheim, commune on which the ZAD had been installed for almost a year, and several other elected officials began discussions with the gendarmerie and the secretary general of the Bas-Rhin prefecture, Yves Séguy.
"The only thing we ask, (…) is that we postpone any work"until all court solutions have been tried, Dany Karcher said. "Resistance is here", said the mayor, denouncing "Violence on the side of the police" and the use of tear gas against elected officials.
The large western bypass of Strasbourg (JRC), which was called up in the 1970s and was regularly abandoned before it was re-launched in the late 1990s, aims to discharge highway 35 (A35) by absorbing traffic from north to south. from Alsace.
Critics of the project point out that this will lead to the consumption of a lot of agricultural land and the endangering of protected species, including the great hamster of Alsace.
Read also:

Throughout France dozens of fiercely contested development projects

Several environmentalists, including MEP Europe Ecology-Green Yannick Jadot, had called upon Nicolas Hulot, still the minister of ecological transition, to resist this at the end of August. "Great useless project" and dangerous to the environment, as it was "Beaten against Notre-Dame-des-Landes".
Work must begin with deforestation and archaeological excavations.
But at 07:20 the clocks of the village of Kolbsheim still sounded.
Source link