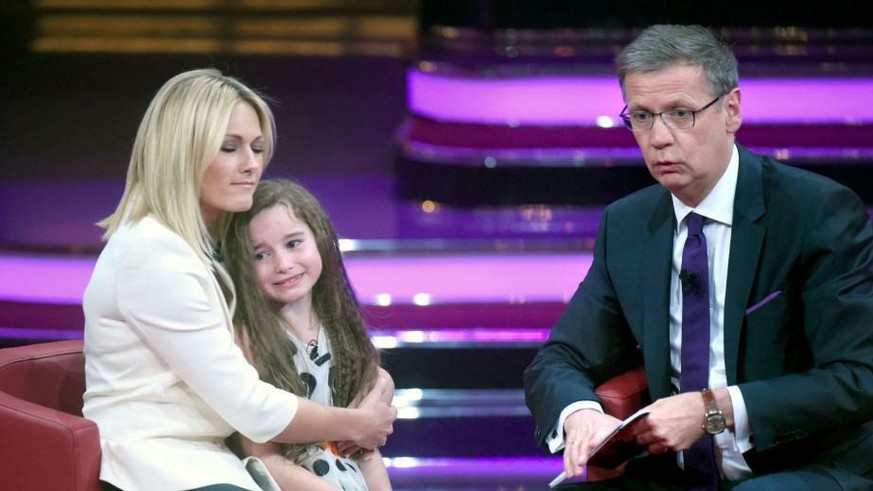 Helene Fischer and Günther Jauch at the RTL annual overview 2015. Image: dpa
"Thought she would come to Flori alone": Günther Jauch talks about Helene Fischer's appearance
After it has been very quiet around her in 2020, December will be Helene Fischer's big month. As Watson reported, she will appear on TV in "Ein Herz für Kinder" and in Günther Jauch's annual review "People, Images, Emotions". In addition, there is a "Best of" album with highlights from ten years of "Helene Fischer Show".
RTL presenter Günther Jauch seems to be a bit surprised by the acceptance of Fischer, but is already very happy. This is evident from a conversation with the magazine "Gala".
Despite their divorce as a couple, Helene Fischer and Florian Silbereisen maintain a friendly relationship. The singer was also a guest on several of her ex-boyfriend's TV shows. Jauch now lovingly addresses this fact:
Helene Fischer and Florian Silbereisen still get along well. Image: Getty Images / Jens Schlueter
Helene Fischer was even a guest at "Menschen, Bilder, Emotionen" in 2015. It was then that she met a young fan on the show – and confessed that her hair had been bleached.
Helene Fischer, Mick Schumacher, Hendrick Streeck and many more celebrities
As every year, the program has many famous guests. With the virologist Hendrik Streeck, the Bavarian Prime Minister Markus Söder, the football coach Hansi Flick, the actress Helena Zengel, the racing driver Mick Schumacher and Helene Fischer, personalities from different areas of public life are in control.
"People, Pictures, Emotions" takes place on December 6 at RTL. The day before, the hit queen can be seen on ZDF on "A Heart for Children". There she sings a duet with Andrea Bocelli. At Jauch she sings her song "Never Enough" and the Leonard Cohen classic "Hallelujah" in a duet with Rea Garvey.
(ju)
Source link