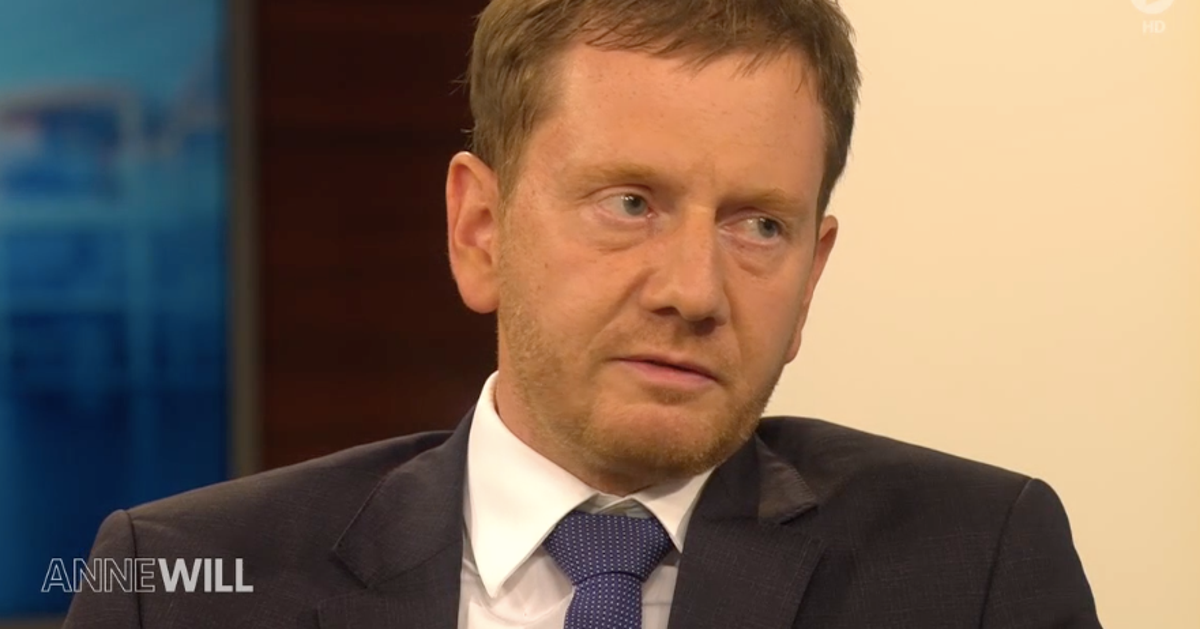 And again it was about Chemnitz.
On Sunday evening Anne Will and her guests on ARD discussed how the murder of 35-year-old German-Cuban Daniel H. changed the country last weekend.
Visit Anne Will:

► Michael Kretschmer (CDU, Prime Minister of Saxony)

► Wolfgang Thierse (SPD, former President of the Bundestag)

► Petra Köpping (SPD, Saxon State Secretary)

► Serdar Somuncu (comedian and author)

► Olaf Sundermeyer (expert journalist and right-wing extremist)
Again the "Anne Will" editor showed the bad photos of the demonstrations last week: Hitler greetings, hooligan chants ("Adolf Hitler Hooligans!") And death threats ("We've cut your neck").
CDU Prime Minister Michael Kretschmer said: "People are heavily tried and convicted." He blocked questions from Will about the lack of police on the ground.
"I think you're not close enough to judge that," Kretschmer replied snarly. He insisted that the police had always maintained the monopoly on violence.
Expert: "The right has sovereignty"
Right-wing extremist Olaf Sundermeyer was strongly opposed to: "The sovereignty in Saxony has the right." He spoke of "official failure", the Saxon police also accused many years of intimidating journalists. There is no such thing in other states.
Kretschmer was angry now. On Monday's mission, he said, "I hate being so critical. You do not know the processes! You do not know when the fax came."
But he did not want to explain his assessment of the police operation, even to the moderator. "You do not know the facts," he said defiantly again. A most failed start.
Will had to calm down her guest early – and reprimanded him.
He must prove his claims as well as all other guests. Kretschmer came down for a moment.
Thierse finds emotional words
The former SPD Bundestag President Wolfgang Thierse then did his part to cultivate a quieter conversation tone.
He talked about a moving poster that he saw on the counter-demonstration. Then: "Do not give up Saxony!"
The Eastern politician addressed Kretschmer: "It is no shame to admit mistakes."
And for the protesters: if someone shows a Hitler salute, every "decent Saks", whether he is against the current policy, "go away!"
Comedian Somuncu appeals to all Germans
Comedian Serdar Somuncu gave his own global analysis of the political situation. The refugee crisis has also troubled people. Angela Merkel would have said "we can do it" as a motto, but never explained "what we do and how we do it".
The fear that exists now, although not with numbers, but really. He believes that extremism can only be combated if there is again a social consensus and an "overarching dialogue with all the forces of Germany".
"Every part of society is called upon to participate in the debate, which must end in consensus: how can we live together?" Somuncu closed his call.
Somuncu has received a lot of approval – only at one point. He also called on the AfD to take part in this dialogue. When he urged the right-wing party leader, Alice Weidel, he asked: "Why does not she now show that she is part of a democratic spectrum?"
Thierse replied angrily, "Because she is not!"
Thierse speaks a word of strength
And shortly afterwards, the SPD man again approached the cabaret artist. He had just explained what Merkel had done wrong in 2015 from his point of view. He accused her in her refugee policy of issuing a "decree".
Thierse said: "I do not have to agree with you. (…) Now we are going to trap the good weather." Again, it's all about refugees.
Moreover, the "welcome culture" – as claimed by Somuncu – was not a "defeated doctrine". Many thousands of people were involved.
"Politics must approach all things that integrate with great honesty, it will take much longer than many think," explained Thierse. But this was already the case after 1945, when in the case of guest workers and then also after the fall of the wall in 1989.
"But integration does not always mean talking about the refugees!", Asked Thierse. We also need to talk about pensions, the future of work and education. "Otherwise, we will just fall for the right-wing extremists!"
Source link