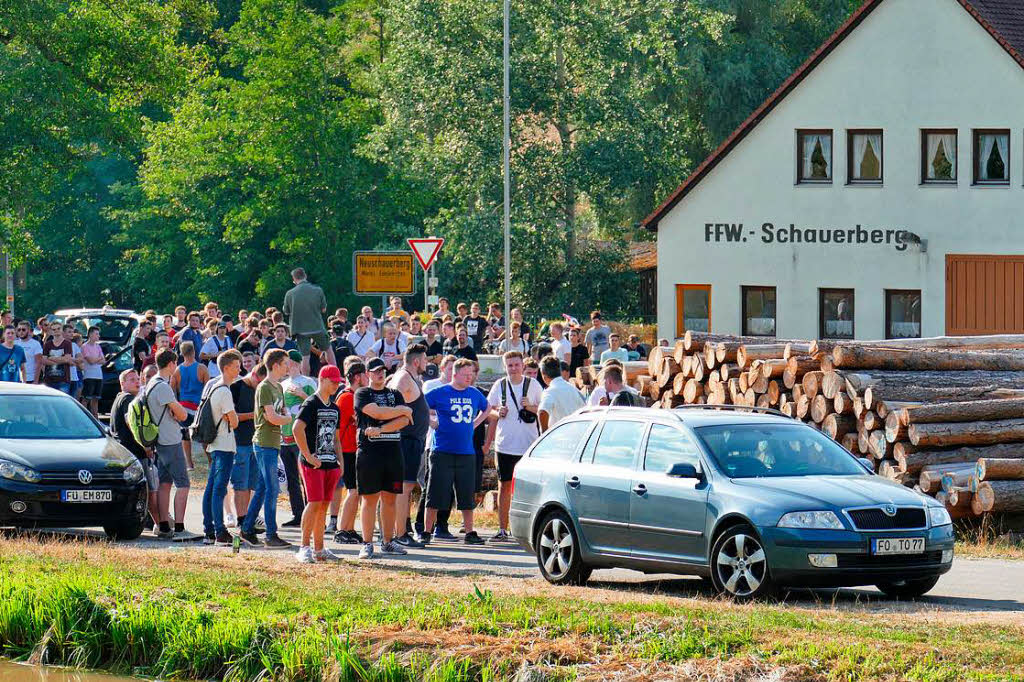 Probably from hatred 600 to 800 people drove to Middle Franconia. They stayed there all Monday for a house of a YouTuber. The police even had to get Krfte out of a DFB Cup match.
The Haters arrive on a Monday. Hundreds besiege Altschauerberg, a village in Middle Franconia, which has only 40 inhabitants. You could say, Hater are people who make others on the internet. While the police block access roads, guests leave on foot, park in the neighboring village and walk straight through the forest.
You do not have to be there to understand how the Haters did it: they filmed themselves and then put the videos on the internet. 600 to 800 visitors from all over Germany slept during the day for a single residential building, police said. "We were once a beautiful, quiet, peaceful village", complains a neighbor in a TV report. "Since it's all dressed up, that's over."
She means the man who calls himself Dragonlord, but actually Rainer Winkler. His account on YouTube has been around for seven years and millions of videos have been viewed. In it he usually sits in front of a pot with posters of metal bands Dachschrge. His hair is wild from his head.
The hater he called
In one way or another, he has gained fame with his work or something similar: where other celebrities have fans, the Dragon Lord Hater. Not recognition fears those who follow it, but hatred. He spends hours, often in real time, talking about computer games, but his subjects really do not matter: they insult him in writing, he has been crying for years. As soon as the Dragonlord got so angry that he told the Haters to come to him, he wanted to hit them. He also gave his address for this purpose.
Since then people appear in Altschauerberg who are not there. They shoot behind Winkler and try to provoke a reaction. "There have always been people who visited this dragon lord and there have always been inserts," police spokesman Alexandra Federl said. This development reached its peak on Monday.
A few weeks earlier, foreigners had called for the mass visit on the net. At last, the Netzphnomen became reality. The district office of Neustadt a. Aisch-Bad Windsheim had heard about this and declared a ban on meeting without mercy. An escalation of violence was feared. After all, it should have meant death threats against the Dragon Lord.
300 site references and a fire
Nevertheless, the police gave about 300 lawsuits, but Bller flew through the village. Occasionally there was damage to property. At one point the siren cried, the fire brigade went on: someone had lit dry grass. Security forces were withdrawn from the DFB Cup match between Greuther Frth and Borussia Dortmund and instead sent to the residence of the Dragon Lord. The Haters stayed until the evening, drank their own beer, chewed the village.
Meanwhile, Winkler was sitting at his computer and commented on the chaos in front of his front door. "I say, let her come," he said early in the morning, holding a Samurai sword in the camera.
"It would take wind out of the sails, this citizen would not express his opinion about YouTube for the time being," says Rainer Kahler, spokesperson for the district office. Winkler has even removed several YouTube videos from the internet. "I switched off my main channel indefinitely," he explained earlier. The Altschauerberg is hardly satisfied. He wants to stay active on other platforms. The Dragon Lord deserves advertising and selling fan merchandise. "If I stopped, that would mean financial destruction for me," he said during a video stream during the weekend. And so Hater waited for his front door again on Wednesday.
Source link