The geographic spread with regard to the 1,667 additional coronavirus cases was announced with a newer update by EODY.
According to the organization, Attica and Thessaloniki remain at the top of the list of new infections, with 316 and 367 infections respectively.
The cases were significantly reduced compared to the previous days in Larissa (66), while 93 new diagnoses were found in Pieria and 56 in Pella.
In 5 regions 86% of coronavirus cases
Earlier, during the Ministry of Health information on the coronavirus, Deputy Minister of Civil Protection, Nikos Hardalias, referred to some of the aforementioned areas where, as he said, the spread of the virus continues.
RELEVANT ARTICLES
As informed Mr. Hardalias, the active cases of coronavirus are across the country 16,617, of which 7,031, or 42.3%, are located in the Central Macedonia region3,267 or 19.7% are in the region of Attica, 1,777 or 10.7% are in the region of Thessaly, 1,590 or 9.6% are in the region of East Macedonia and Thrace, and 632 , 3.8%, in Western Macedonia.
As Mr. Hardalias noted, 86.1% of active coronavirus cases are geographically distributed in 5 of the 13 regions of the country. In particular, he noted that 66.4% is located in the north of Greece. In addition, he pointed out that Attica collects 17.9% of active cases.
The trend towards a reduction in the number of coronavirus cases in Thessaloniki has been halted
In the relevant diagram, showing the measurements of the viral load in the wastewater of Thessaloniki from the start of the epidemiological outbreak, it is noted that in the last four samples – from 25 November to 2 December – the downward trend that started to be recorded in the four previous measurements of sampling from November 16 to 23.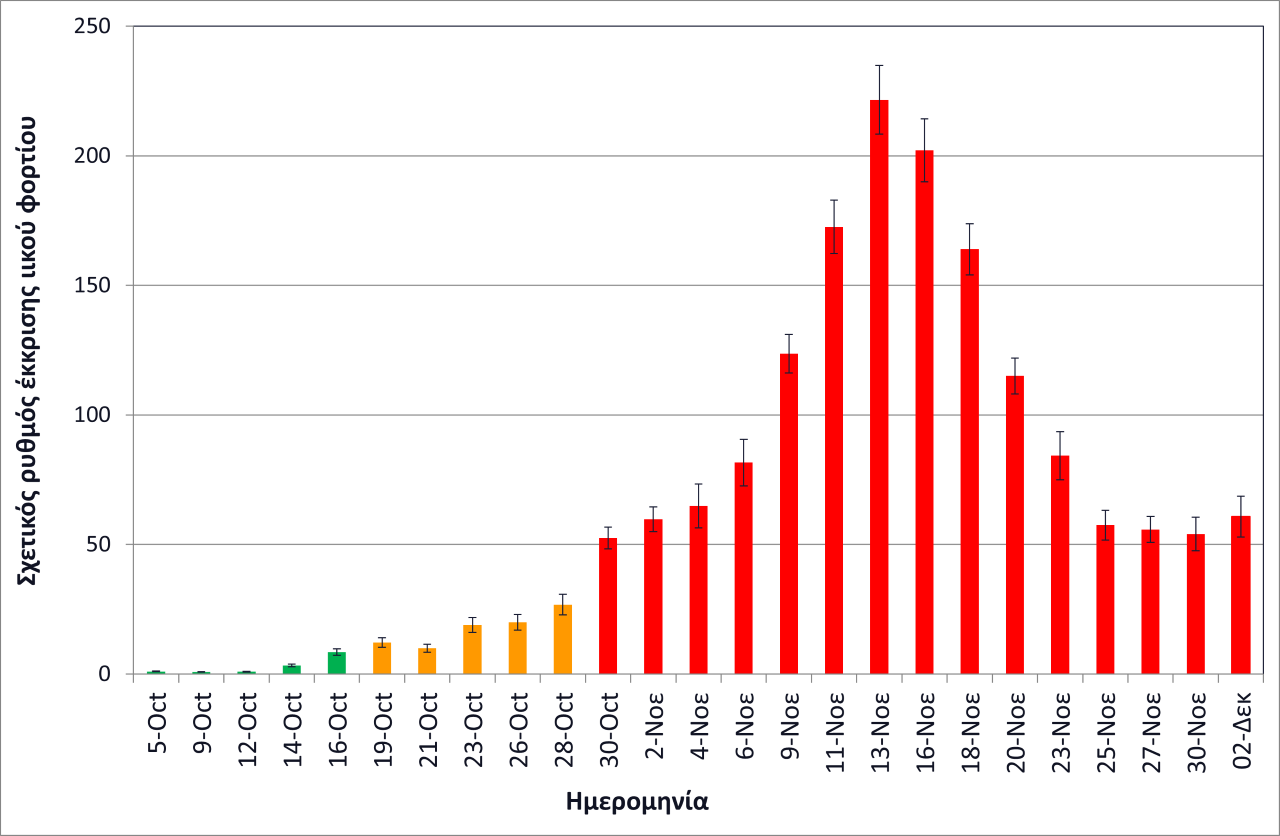 The diagram provided by the Aristotle University of Thessaloniki to APE-MPE shows the progression from the recording of the viral load in the wastewater up to the sampling of December 2, 2020.
At the same time, according to the estimates of the professor's team at the Department of Chemical Technology of the Aristotle University of Thessaloniki Demosthenes Sarigiannis, as published on Thursday, one in four new cases registered in our country on the last day of 2020 is in Thessaloniki, the 200 cases out of a total of 700-800 that day.
Which means there is enough time ahead of us to return Thessaloniki to a relatively satisfactory and manageable health situation.
Detailed geographic distribution of coronavirus cases (Friday 4/12)
More specifically, according to EODY, 9 cases were identified during the checks carried out at the entry gates of the country. The rest were found all over the territory and are distributed as follows:
316 cases in the Attica region
367 cases in PE Thessaloniki
20 cases in PE Etoloakarnania
17 cases in PE Argolida
5 cases in PE From Arcadia
13 cases in PE From Achaia
14 cases in PE Βοιωτίας
13 cases in PE Grevena
33 cases in PE Drama
35 cases in PE Evros
3 cases in PE Van Evia
5 cases in PE Evritania
1 case in PE From Ilia
79 cases in PE Imathia
15 cases in PE Heraklion
1 case in PE Thesprotia
12 cases in PE Ioannina
32 cases in PE Kavala
1 case in PE Kalymnos
29 cases in PE Karditsa
6 cases in PE Kastoria
2 cases in PE Corfu
56 cases in PE Kilkis
34 cases in PE Kozani
7 cases in PE Corinth
3 cases in PE Laconia
66 cases in PE Van Larissa
13 cases in PE Lesbos
1 case in PE Lefkas
1 case in PE Lemnos
51 cases in PE Magnesia
7 cases in PE From Messinia
49 cases in PE Xanthi
57 cases in PE Pella
93 cases in PE Pieria
1 case in PE Preveza
20 cases in PE Rodopi
2 cases in PE Rhodes
40 cases in PE Serres
23 cases in PE Trikala
11 cases in PE Fthiotida
12 cases in PE Florina
1 case in PE Φωκίδας
40 cases in PE From Halkidiki
10 cases in PE Chania
5 cases in PE Chios
36 cases are under investigation
!function(f,b,e,v,n,t,s){if(f.fbq)return;n=f.fbq=function(){n.callMethod? n.callMethod.apply(n,arguments):n.queue.push(arguments)};if(!f._fbq)f._fbq=n; n.push=n;n.loaded=!0;n.version='2.0';n.queue=[];t=b.createElement(e);t.async=!0; t.src=v;s=b.getElementsByTagName(e)[0];s.parentNode.insertBefore(t,s)}(window, document,'script','https://connect.facebook.net/en_US/fbevents.js');
fbq('init', '590266244822380', [], { "agent": "pldrupal-8-8.9.6" });
fbq('track', 'PageView', []);


Source link