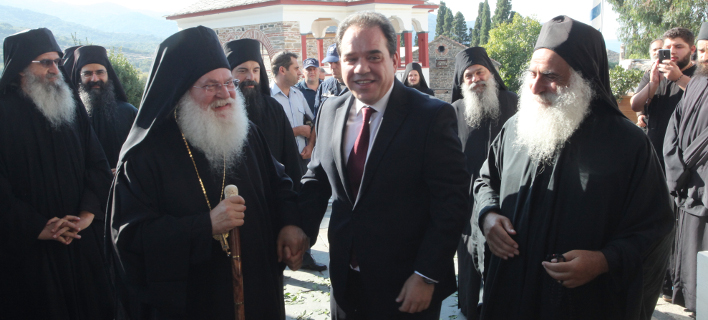 The new political commander of Mount Athos Constantine Dimtsa continues his visits to the monasteries of Mount Athos.
After the Great Lavra, the first Monastery, he visited the Holy Monastery of Vatopedi, the second in the class. According to the typical Athonite it was beautifully welcomed by the abbot of the monastery, Archim. Ephraim and the church fathers of the monastery, as he had also reserved for the Protaton in Karyes and the Great Lavra.
Abbot Ephraim emphasized in his speech that Mount Athos under the auspices of the Ecumenical Patriarchate has a great mission in the modern world. He referred to the importance of the establishment of the bourgeois governor, which contributes to the balance and proper development of relations between the Greek state and Mount Athos. He wished the new governor to carry out this function seamlessly, with prudence and distinction, with the enlightenment of God and the blessing of the Virgin Mary, the abbot of Mount Athos.
The new political commander, Mr. Constantine Dimtsas, said in his reply that he is a great honor in his face and regards a great blessing from God, who was given this office by the Greek state. He declared that he began this function by asking for the holy wishes and blessings of the supreme spiritual overseer of Mount Athos, the ecumenical patriarch. Bartholomew. He emphasized the ecumenical nature of Mount Athos, that it is the cradle of orthodoxy and that, apart from its spiritual and cultural contribution to the world, also exhibits a great charitable work. Finally, he said: "I am aware of all these dimensions, as the Greek state knows, and it surrounds this sacred place with respect and love." Make sure you are transferring "good faith" to the competent government agencies, so now and then a question or problem The Greek homeland has the unique privilege of having the Athonite state on its territory, I am sure that it fully recognizes the resulting honor and blessing, but also the responsibility. "
It should be noted that the former political commander of Mount Athos Mr. Aristos Kashmiroglou, as well as the Metropolitan of Atlanta Alexios of the Ecumenical Patriarchate and Archbishop of Katharon Mr. Makarios of the Patriarchate of Jerusalem.
On Sunday, the new civil governor visits the third monastery in the Ieron monastery and then the other monasteries of Mount Athos.
Source link