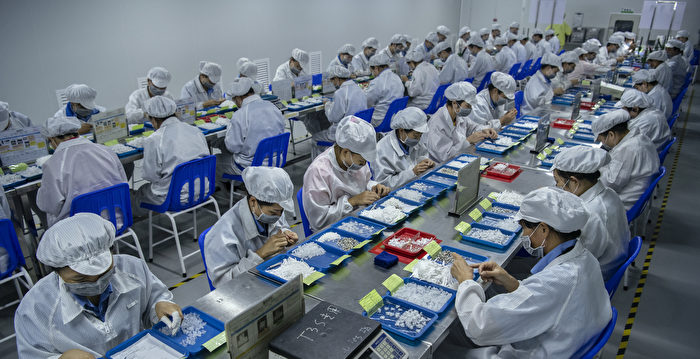 [Epoch Times 25 november 2020](Epoch Times reporter Li Yixin reported from Taipei, Taiwan) The British "The Economist" reported that Taiwanese companies for three main reasons: geopolitics, no longer competitive advantages and generational differences. The golden age that flourished in mainland China is likely to be over for good.
The report pointed out that as the West becomes more vigilant about China's rise, Beijing seems more eager than ever to strengthen trade relations between the sea states. To attract Taiwanese business people, the Chinese communist government introduced 31 measures against Taiwan in 2018 and 26 against Taiwan in 2019. In May 2020, she issued an injunction to assist Taiwanese-funded companies signed jointly by 10 divisions. Same treatment for companies ".
However, the article notes that Beijing's efforts have had limited results so far. Since 2015, the investment funds flowing from Taiwan to mainland China have fallen by more than 50% every year.
According to The Economist, there are three main reasons why Taiwanese companies are reluctant to invest in China. Including Geopolitics: Taiwanese have gradually recognized that the CCP is seeking to strengthen commercial bundling between straits in order to hinder Taiwan's independence; As a result of the trade war between the US and China, many Taiwanese factories have withdrawn from China. According to a study by the National Federation of Industries, 40% of Taiwanese businessmen in mainland China have 'moved' or will 'relocate'. Production capacity "to other countries. Among them, the US sanctions against Huawei and other Chinese technology companies have also allowed Taiwanese companies to shift their positions.
Second, Chinese companies have long been backed by the Chinese communist government, pushing the survival of Taiwanese companies on the mainland. The report quoted a Shanghai-based Taiwanese businessman who pointed out that in order to promote a "red supply chain," contracts are still preferred by Chinese companies; Huang Shengchao, chairman of the Ningbo Taiwan Business Association, revealed that none of the association's 300 members can get a major Chinese government contract.
Third, the cooling of Taiwanese investment in China is linked to the change of generations. Take Kunshan Taiwanese Housheng Group as an example. Most Taiwanese executives have retired in old age, but the younger generation of Taiwanese are reluctant to go to China to hire ungrateful factory supervisors. Taiwanese entrepreneurs face the problem of "succession failure". We are reluctant to continue to invest heavily in China.
Responsible editor: Lumeiqi #
Source link